Classic Reuben Sandwich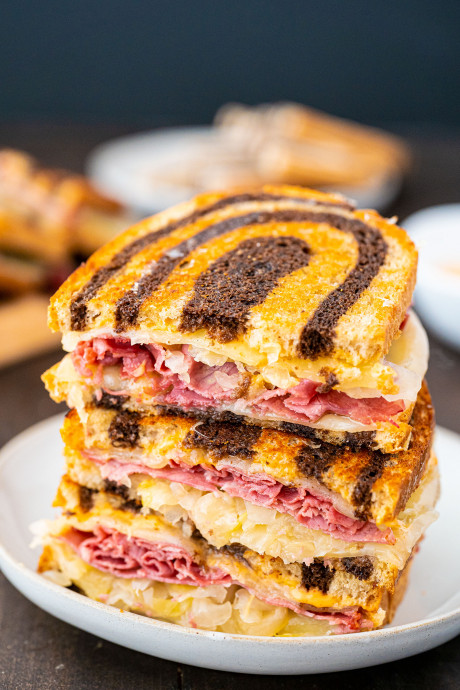 Sandwiches may have originally come from England, but it was in America that they were perfected. Nowhere is this perfection more realized than in the Reuben sandwich – meat, cheese, sauerkraut, and creamy Russian dressing; this sandwich is the epitome of a classic.
A classic Reuben sandwich is a pretty simple sandwich and is really just a corned beef on rye with the addition of sauerkraut and Russian dressing.
Most Reuben's you order from delis tend to actually replace the Russian dressing with Thousand island, which is a lot sweeter and less spicy. So, if you can, try to make your Russian dressing from scratch using our recipe to get the true, classic Reuben experience. If you really aren't a fan of Russian dressing or just cannot handle the flavor of ketchup, you could replace the Russian dressing in this sandwich with a thick smear of mayonnaise. You could even flavor it a bit with some spicy chilies or some hot sauce to try and replicate the piquant flavor of traditional Russian dressing.
The great thing about making a classic sandwich like a Reuben is that most of the method is up to you. At its most basic, you just stack your ingredients between two slices of bread and cook until browned.
Ingredients:
2-3 tablespoons butter
8 slices marbled rye bread
12 slices deli corned beef
8 slices Swiss cheese
1/2 cup sauerkraut drained
½ cup homemade Russian dressing