Sugar Cookie Fruit Tarts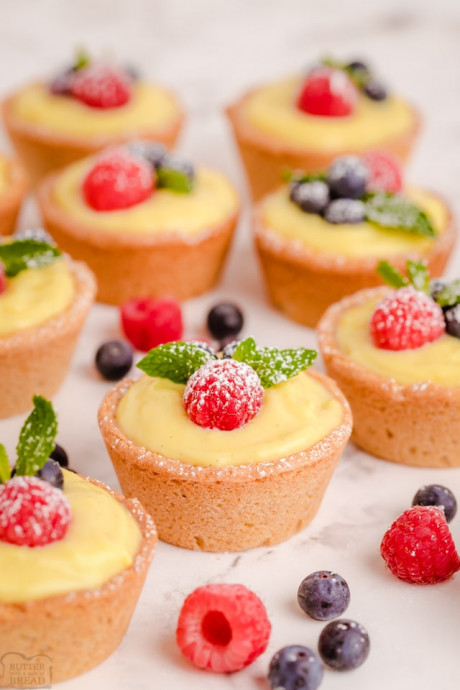 Sugar Cookie Fruit Tarts are lovely sugar cookie cups filled with vanilla custard & topped with your favorite fruit! They're a quick dessert using seasonal fruit. Sugar Cookie crust mini tarts perfect for Mother's Day, a Baby Shower or Bridal Showers!
We're big fans of fruit tarts here in our house. We love the fresh fruit flavors paired with the differing textures of the custard and sweet berries on top. I love that they're gorgeous when served too! Display them on dessert stands or on a pretty platter for a show stopping easy summer dessert.Traditionally tart shells are made with a sweet or savory crust that takes hours of prep work to keep doughs chilled to perfection and once baked they're filled with a homemade filling. We're cutting corners but not cutting out taste thanks to our cookie crust and vanilla pudding filling. This semi-homemade cookie tart recipe is a variation of fruit pizza & takes minutes to prepare.
Ingredients:
For the Custard:
4.6 oz Cook & Serve Vanilla Pudding Mix
3 cups whole milk
1 1/2 teaspoons Vanilla Bean paste
For the Cookie:
2 ⅓ cups all-purpose flour
1 ½ teaspoons baking powder
1 teaspoon cinnamon
¼ teaspoon nutmeg
1 ¼ cups granulated white sugar
¾ cup salted butter softened
2 eggs
1 Tablespoon maple syrup
1 ¾ teaspoons vanilla extract
For the Toppings:
1 pint fresh raspberries
1 pint fresh blueberries
Mint leaves optional garnish
Powdered sugar optional garnish