Egg Tarts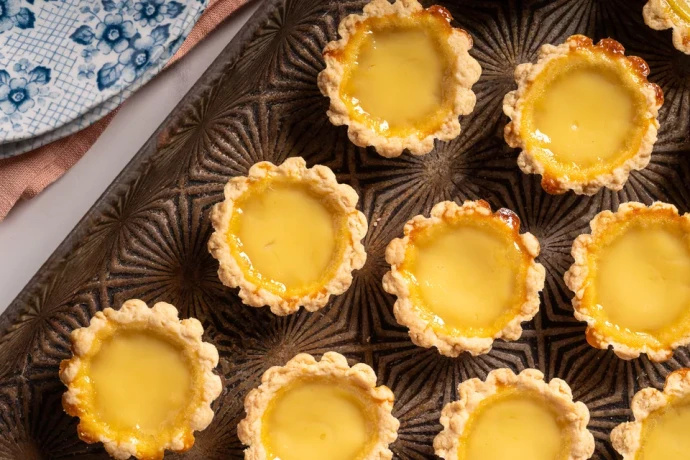 Egg tarts are subtly sweet bite-sized treats with a flaky crust and custard filling. They can be enjoyed warm from the oven, at room temperature, or even served cold. Egg tarts have a unique history in both Asian and Portuguese cuisine.
The Portuguese version of egg tarts have a scorched, caramelized exterior. A version of this caramelized egg tart can also be seen on menus in Macau, and just a short boat ride away is Hong Kong where egg tarts can also be found on local menus. The Hong Kong egg tarts are influenced by the British style of custard tarts, with the egg custard filling presented with a glossy, smooth finish rather than a caramelized top. They're a popular offering at dim sum.
These Chinese-style egg tarts may seem difficult to make, but the preparation is quite easy. A simple egg custard is made with milk, egg, vanilla, and sugar syrup for subtle sweetness. The filling is poured inside a simple pastry crust that has been pressed inside small tart pans.
The egg tarts are first baked at a higher temperature to allow the crust to crisp, then the oven temperature is lowered to allow the filling to set. Once the filling is no longer wobbly, the tarts are ready to remove from the oven. Once they have cooled enough to handle, gently remove them from the tart pans and enjoy. They are the perfect not-too-sweet treat to end any meal.
Ingredients
1/3 cup water
1/4 cup sugar
1/4 cup milk
1 egg
1/2 teaspoon vanilla extract
5 tablespoons unsalted butter (softened)
2 tablespoons sugar
1 egg (beaten)
1/4 teaspoon vanilla extract
1 3/4 cups all-purpose flour