Cheesy Hash Brown Quiche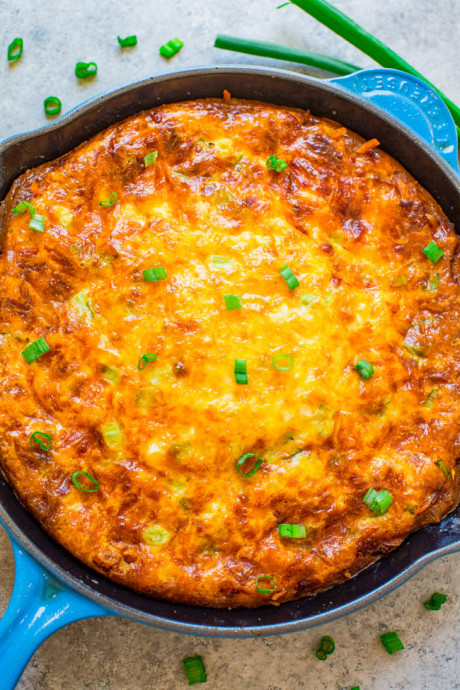 Cheesy hash brown quiche – this easy quiche uses crispy hash browns as the crust and is topped with cheesy eggs!! The ultimate comfort food brunch or breakfast-for-dinner recipe that everyone loves! This is a perfect easy breakfast or (holiday) brunch recipe. Or make it as a meatless breakfast-for-dinner meal as a way to change up your usual dinner rotation. It's not your traditional quiche with eggs baked inside a typical pastry crust in a tart shell. Rather than going the traditional route for the crust, instead I used a 16-ounce bag of frozen hash browns that I thawed before baking them in my 9-inch cast iron skillet to allow them to crisp up. Then just whisk together eggs, cheese, half-and-half, green onions for flavor, add bake until the eggs are set and the cheese is as golden browned as desired. If you want to up the veggie quotient in this recipe, to the egg mixture you can add bell peppers, asparagus, mushrooms, onions, or whatever you have on hand that sounds good.
Since we eat a ton of salads and veggies, I let this be all about the hash browns, eggs, and cheese. Pure comfort food that my family devoured and ridiculously easy. Naturally gluten-free and vegetarian too.
Ingredients:
about 4 tablespoons olive oil, divided
16-ounces hash browns, thawed and seasoned with salt and pepper
10 large eggs
2 cups shredded mozzarella cheese, divided
1/2 cup half-and-half (whole milk or heavy cream may be substituted)
2 or 3 green onions, sliced into thin rounds
1 teaspoon kosher salt, or to taste
1 teaspoon freshly ground black pepper, or to taste