Lemon-Blueberry Sweet Rolls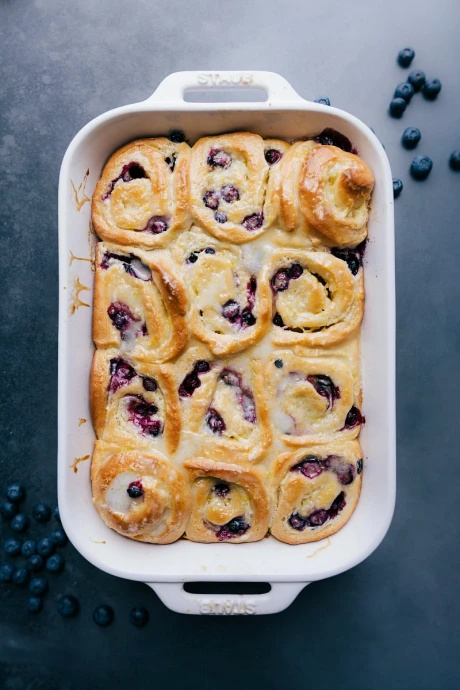 Creamy European-style butter is the secret to these Lemon-Blueberry Sweet Rolls — it's in the base, filling, and glaze! These sweet rolls start with a soft, sweet dough, filled with lemon-infused sugar and blueberry filling; they're topped with a sweet lemon glaze. These sweet rolls are incredible! They're sweet, buttery, tart, fresh, and vibrant. They're bursting with juicy sweet blueberries and covered in a sweet-tart lemon glaze.
This recipe takes a good amount of time! Even though a lot of the time is hands-off, it's still time and labor-intensive. Give yourself plenty of time; there can be a lot of variance in how the dough rises and how the sweet rolls bake, depending on the altitude where you live, the humidity, and other factors. While this recipe is very precise, the flour measurement can greatly vary, again due to many factors. Ultimately, you are looking for a slightly sticky and tacky dough that gathers around the hook and doesn't stick to the side of the stand mixer. Avoid metallic baking pans. Metal pans and lemon don't mix well; I've found when baking lemon treats in a metal pan, the treats end up tasting metallic. Use a ceramic or glass pan for best results.
Ingredients:
1 cup whole milk (I wouldn't recommend a lower fat)
2 and 1/2 teaspoons active dry yeast (not instant)
1/3 cup + 1/2 teaspoon white granulated sugar, separated
4 tablespoons Danish Creamery European Style Butter (unsalted), melted and cooled to room temperature
1/2 tablespoon pure vanilla extract
1 large egg yolk
2 and 3/4 cups white, all-purpose flour, plus additional flour if needed
3/4 teaspoon fine sea salt
For the Filling:
4 tablespoons Danish Creamery European Style Butter (unsalted), softened
3/4 cup white granulated sugar
Zest of 1 large lemon (~1 tablespoon)
1/2 tablespoon freshly squeezed lemon juice
1 cup fresh blueberries
1/3 cup heavy cream, slightly warmed
For the Frosting/Glaze
Zest of 1 large lemon (~1 tablespoon)
3 tablespoons lemon juice
1 tablespoon Danish Creamery European Style Butter (unsalted), melted
1 and 3/4 cups powdered sugar
Pinch of fine sea salt