Carrot Zucchini Bread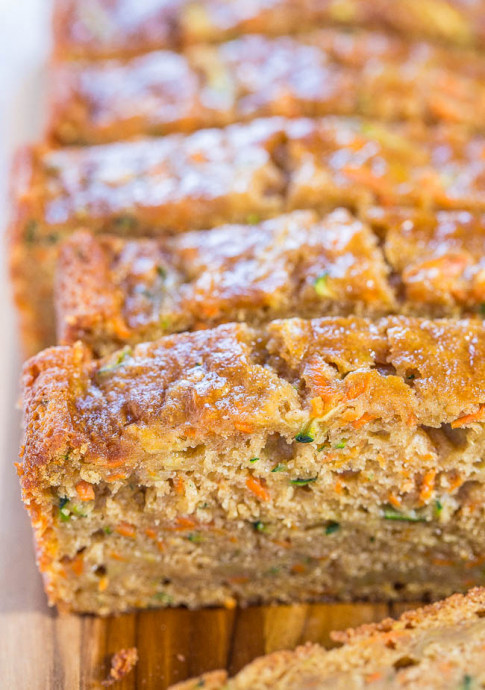 Zucchini Carrot Bread — Fast, easy, one bowl, no mixer!! Super soft, moist, and tastes so good you'll forget it's on the healthier side!! I loved this moist zucchini bread recipe so much. It's so soft, tender, uber-moist, dense enough to be satisfying, but still light. It's just sweet enough to taste like a dessert and not like you're eating vegetables. But you are, so feel free to have seconds.
I adapted my Carrot Apple Bread recipe, and it's an easy, no mixer recipe that goes from bowl to oven in minutes. I used liquid-state coconut oil, so there's no butter to cream and no mixer to dirty. Oil keeps bread softer and springier than butter, and I prefer it.
Baking with carrots and zucchini not only adds chewy texture, but so much moisture is imparted that it's impossible to have a dry loaf. I grated the carrots and zucchini by hand using the coarsest blade on a box grater. It only takes a few minutes, and I'd spend much more time washing food processor parts than doing it the old-fashioned way.
The zucchini-carrot cake bread was so flavorful and moist that I didn't even need butter. Although a browned butter or cream cheese glaze can never hurt.
Ingredients:
1 large egg
1/2 cup light brown sugar, packed
1/3 cup liquid-state coconut oil (canola or vegetable may be substituted)
1/4 cup granulated sugar
1/4 cup cup sour cream (lite is okay; or Greek yogurt may be substituted)
2 teaspoons vanilla extract
2 teaspoons cinnamon
1 cup all-purpose flour
1/2 teaspoon baking powder
1/2 teaspoon baking soda
pinch salt, optional and to taste
1 cup grated carrots, laid loosely in cup and not packed (about 1 large/2 medium peeled and trimmed carrots)
1 cup grated zucchini, laid loosely in cup and not packed(about 1 medium/large trimmed zucchini)
1/2 cup walnuts, raisins, etc., optional