Sweet Potato and Mozzarella Egg Skillet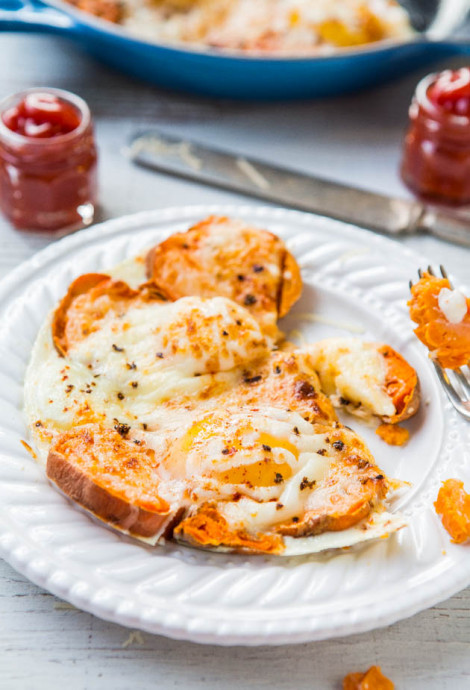 Sometimes simple is best. Actually, most times. In life and in recipes, keeping it simple definitely has its perks. There's nothing fancy about this, but I find it's the 3-ingredient, 15-minute recipes that my family requests over and over, and that people tend to make.
Consider this your get-out-of-dinner-jail free card when you've had one of those no planning at all days and it's 9:30pm on a school night and you still haven't fed the crew. Whoops, it happens. Or it makes an easy, effortless brunch dish without any fuss or hassle.
It's a satisfying vegetarian meal if you're trying to eat less meat or great if you're vegetarian by accident that day. You know, you have absolutely nothing in your fridge or pantry but manage to scrounge up a potato, a few eggs, and some cheese. Awesome, you can make it. It's easy, inexpensive, comfort food that's fairly healthy, all things considered. You can add some diced veggies on top to work in extra color, texture, and nutrients. In the past I've used diced bell peppers, tomatoes, mushrooms, corn, asparagus, leeks, peas, and edamame. They all work.
The sweet potatoes are soft and tender, and make the perfect base for the warm eggs and gooey melted cheese.
Ingredients:
1 medium/large sweet potato
4 large eggs
1/2 cup Mozzarella cheese (substitute with fontina, goat, or your favorite easy-melting cheese)
1/2 teaspoon smoked paprika, optional (substitute with the seasoning of your choice)
pinch salt and pepper, to taste