Red Cabbage Salad Recipe With Honey Lime Dressing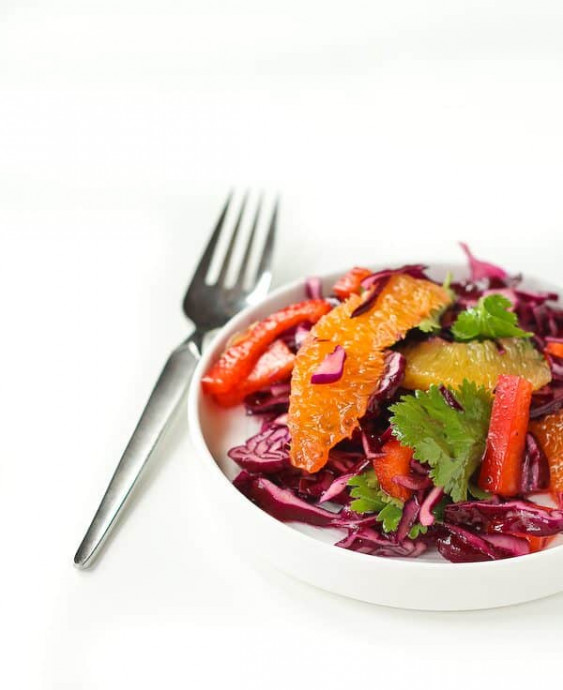 Refreshing and bright, this red cabbage salad recipe with honey lime dressing is the perfect side to a heavy meal of Mexican food. It's even great on top of tacos! First of all, how pretty is this salad? Don't you want to make it just for that reason? It's a salad that comes together in minutes and just screams summer. It's crunchy, tangy, and it goes perfectly with heavy Mexican meals. It's the pop of freshness and flavor needed alongside enchiladas, tacos, and burritos.
Another great thing about this salad, is hat red cabbage is really healthy and nutricious! Perfect to serve as a make-ahead side dish to accompany all of your favorite mains.
Made with a few simple natural ingredients, this red cabbage slaw is packed full of goodness and is great to serve alongside grilled meats, chicken, and seafood. This red cabbage salad would also be a perfect side with these vegetarian baked taquitos, Instant Pot southwestern chicken and quinoa, or taco pasta!
Ingredients:
DRESSING:
juice of one lime (about 1/8 cup)
1 tablespoon honey
2 tablespoons olive oil
salt and pepper to taste
SALAD:
1/4 large red cabbage, shredded (about 4 cups)
1/2 red bell pepper, cut into short strips (about 1 cup)
2 large navel oranges, segmented
1/2 cup fresh cilantro leaves, torn