Samoas Cookie Pie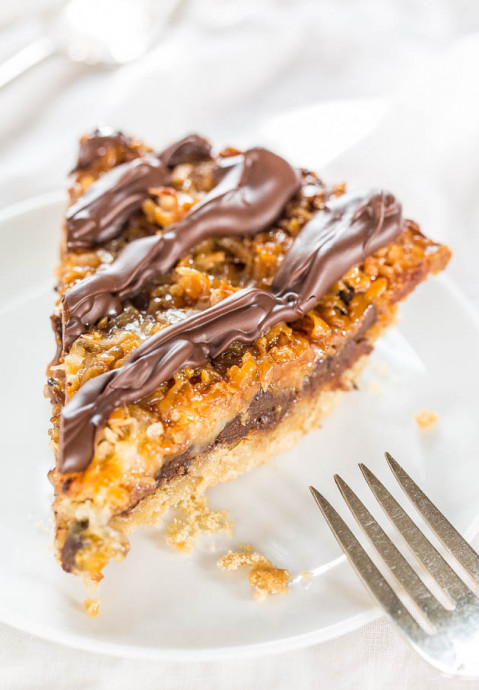 This Samoa pie tastes even better than the Girl Scout cookies you grew up eating! It's layered with caramel sauce, chocolate, and shredded coconut. YUM! It's a fast, easy, no-mixer recipe that comes together in minutes and there's nothing fussy about it. Making individual Samoa cookies is way too labor-intensive and this giant cookie pie is the opposite.
I made a simple stir-together dough for the crust before topping it with chocolate chips, shredded coconut, sweetened condensed milk, salted caramel, and a final chocolate drizzle. You can use homemade salted caramel or your favorite store-bought brand. I like salted caramel because the slight saltiness cuts through some of the sweetness but regular caramel sauce is fine.
Since I didn't dip the bottom of this giant cookie in chocolate like traditional Samoas Girl Scout cookies, I added chocolate chips underneath the coconut layer, a la Seven Layer Bars, and there's chocolate drizzled on top. You can never have too much chocolate. The cookie base is soft, chewy, dense, and the perfect support system for the chocolate, coconut, and salted caramel that gets piled on. With this recipe, it's Girl Scout cookie season year-round. This Samoa cookie pie will stay fresh for up to 5 days at room temperature if store in a sealed container. You can also store it for up to 6 months (I store it by slicing it into small wedges, wrapping each wedge individually in plastic wrap, and putting those in a large zip-top bag).
Ingredients:
1/2 cup unsalted butter (1 stick), melted
1 large egg
1/2 cup light brown sugar, packed
1 teaspoon vanilla extract
1 1/4 cups all-purpose flour
1/4 teaspoon salt, or to taste
3/4 cup semi-sweet chocolate chips, for sprinkling
1 1/2 cups sweetened shredded coconut, loosely laid in measuring cup (not packed)
two-thirds of one 14-ounce can sweetened condensed milk (about 10 ounces)
4 to 5 ounces salted caramel sauce (homemade or store-bought, regular caramel sauce may be substituted)
3/4 cup semi-sweet chocolate chips, melted for drizzling