Banana Split Cupcakes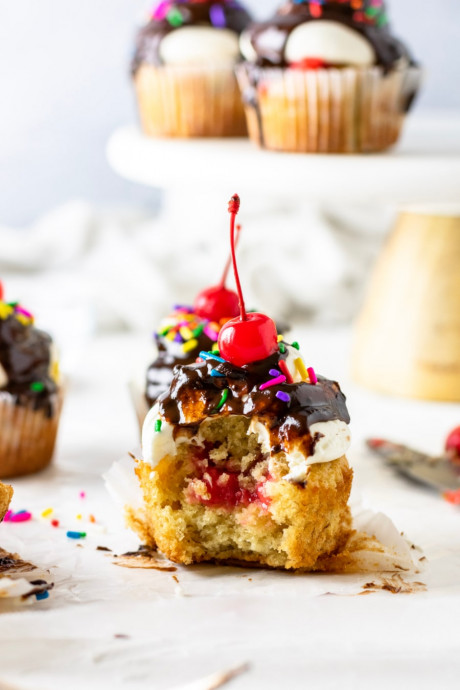 These Banana Split Cupcakes taste just like the classic ice cream dessert and features all of those great flavors, including a cherry on top! Impress your friends and family with this fun and delicious cupcake recipe. I call this cupcake ultimate because it has five different flavor components to create the iconic banana split, but in cupcake form. Just as the name implies, these cupcakes have all of those delicious flavors we all know and love when we think about a banana split sundae.
You have a soft and tender banana cupcake, a sweet strawberry filling, thick and creamy whipped cream frosting, smooth and rich chocolate ganache, and colorful sprinkles. Plus, the cherry on top. Can't forget the cherry! These cupcakes have it all and makes for the most perfect dessert any time of the year! The banana cupcakes are so soft and moist. Whipped cream frosting! The chocolate ganache is ultra-rich and decadent. There's strawberry filling inside of the cupcakes. Tastes just like a banana split! Also, they're just so pretty!
Ingredients:
STRAWBERRY FILLING:
2 cups diced strawberries (about 16 medium-sized strawberries)
1 tbsp sugar
2 tsp lemon juice
1 tsp corn starch
BANANA CUPCAKES:
1 1/2 cups all-purpose flour
1/2 tsp baking soda
1/2 tsp baking powder
1/4 tsp salt
1/2 cup unsalted butter, room temperature
1/2 cup brown sugar
1/2 cup sugar
1 large egg, room temperature
3/4 cup overripe bananas, mashed (2 medium-sized)
1/4 cup yogurt (plain or vanilla), room temperature
1/4 cup milk, room temperature
1 tsp vanilla extract
CHOCOLATE GANACHE:
1/2 cup heavy whipping cream
3/4 cup semi-sweet chocolate chips
WHIPPED CREAM FROSTING:
8 ounces block-style cream cheese, room temperature
1 cup powdered sugar
1 1/2 tsp vanilla extract
2 cups heavy whipping cream
ADDITIONAL TOPPINGS: