Sweet Soft Cherry Bread with Cherry-Almond Glaze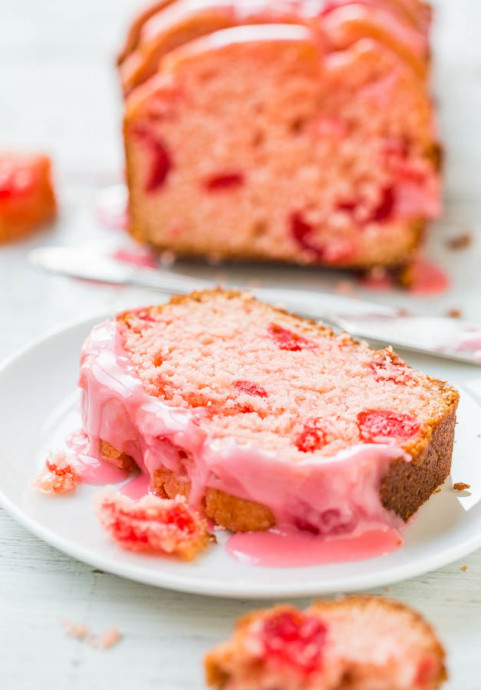 Soft Cherry Bread with Cherry-Almond Glaze — An easy quick bread recipe that's perfect for Valentine's Day, Easter, or Mother's Day! Because you can never have too much pink! There's almond extract in the bread and also more in the glaze. It wonderfully complements the cherries and shouldn't be missed. Look for it next to vanilla extract in the baking aisle. If you love almond extract or are wondering what to do with the rest of the vial, make this cake. It's unique and a keeper. This cherry bread is a soft, sweet, and an easy quick bread recipe to make.
I was tempted to add buttermilk or Greek yogurt to the batter because I do swear by them for keeping things lighter, softer, and moister, but I know my grandma wouldn't have used them, so they were out. And I couldn't resist reserving a bit of the cherry juice and making a cherry-almond glaze.
This maraschino cherry bread will keep up to 6 months in the freeze. Do not glaze bread until ready to serve if you plan on storing long-term.
Ingredients:
Cherry Bread
one 10-ounce jar maraschino cherries, divided
1 3/4 cup + 2 tablespoons all-purpose flour, divided
1 cup granulated sugar
2 teaspoons baking powder
pinch salt, optional and to taste
2 large eggs
1/2 cup canola or vegetable oil
cherry juice, reserve 1/4 cup
1 teaspoon almond extract
1 teaspoon vanilla extract
Cherry-Almond Glaze
1/4 cup reserved cherry juice
1 teaspoon almond extract
about 1 1/2 cups+ confectioners' sugar