Frozen Yogurt Bark with Strawberries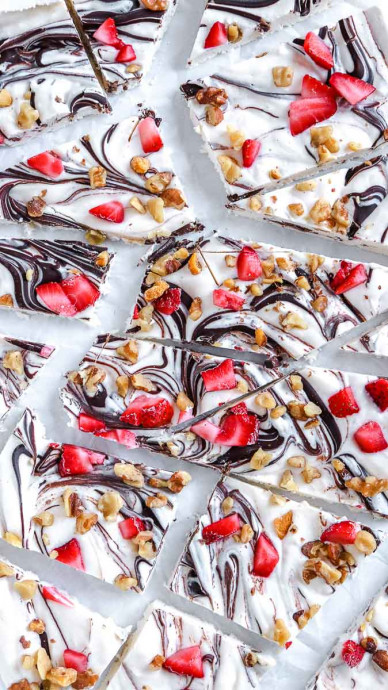 If you are following a low carb lifestyle, this is the perfect sweet snack for you! This keto frozen yogurt bark is no-bake, takes 10 minutes to make, and contains 7g of carbs per serving.
Frozen yogurt bark is one of my favorite healthy snacks, and this version is just as delicious as your regular bark but is keto-friendly. Topped with strawberries, chocolate chips, and walnuts, it's sure to satisfy even the sweetest of teeth!
This yogurt bark will keep well in the fridge for up to a month. Once you cut the bark into squares, transfer them to a freezer bag or safe container. You can enjoy them straight from the freezer so they are always on hand! Greek yogurt is by far the best to use when making frozen yogurt bark. It has a lower water content than regular yogurt so it doesn't develop an icy texture when it freezes. I prefer to use full fat, but non-fat and 2% also work well.
Ingredients:
¼ cup finely chopped strawberries
¼ cup chopped walnuts
2 tablespoons of Lily's baking chips, melted
8 ounces of cream cheese, softened
2 tablespoons of Swerve powdered sugar
1 tablespoon vanilla extract
1.5 cups full fat plain Greek yogurt