Roasted Carrot And Brown Rice Salad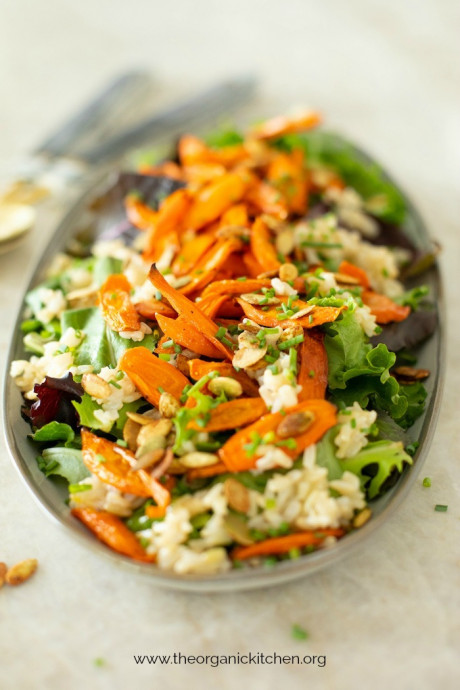 For this stunning salad I use tender baby greens, warm roasted carrots and brown rice, then add some spicy pepitas for a little kick! It is tossed in a simple white balsamic dressing. It's 'barely there' but makes all the difference by ramping up the flavor of each ingredient. I will offer my two favorite white balsamic vinegars, you can choose which best fits your budget. My first pick is always Prelibato White Balsamic vinegar from Italy. You may get lucky and find it in a store, but I almost always have to buy online. Second choice, O California White Balsamic. I find this one in many stores and it's a little easier on the wallet.
Savory, sweet, and spicy with a blend of textures, this salad is a must make! It's perfect for every occasion or no occasion at all. Add rotisserie chicken to make it a complete meal or serve alongside my Citrus and Herb Roast Chicken or Steak Au Poivre.
Ingredients:
Spicy Pepitas
1 cup raw pepitas (pumpkin seeds)
¼ teaspoon black pepper, freshly ground
1/4 teaspoon cayenne pepper
1/2 teaspoon ground cumin
1/2 teaspoon ancho chile or chili powder
1/2 teaspoon sea salt
1/2 Tablespoon fresh squeezed lime juice
For Salad:
1/2 cup brown basmati rice cooked to package instructions
8 medium carrots, peeled and thinly sliced on the diagonal (1/8" thick)
1-2 tablespoons extra virgin olive oil
sea salt and freshly ground black pepper, to taste
4 cups baby greens
handful spicy pepitas (store bought or recipe included here)
2 teaspoons chopped chives (optional as garnish)
Salad Dressing:
1/3 cup extra virgin olive oil
3 tablespoons white balsamic
2 teaspoons honey
pinch sea salt and a few turns freshly ground pepper