Blackened Salmon Tacos with Kiwi Pepper Salsa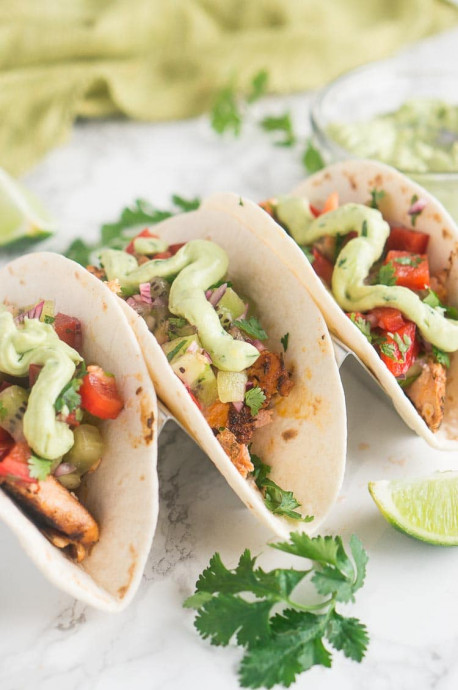 These blackened salmon tacos are the perfect addition to your next taco Tuesday! Seasoned salmon is topped with the most delicious kiwi pepper salsa for a wonderfully falvorful bite. Quick and easy to make, they're ready to serve in just 20 minutes.
These Mexican inspired tacos are bursting with flavor! High in protein and low in fat and calories, they're tacos you can feel good about eating! They're super easy to make and the blackened salmon is a real treat!
Top these salmon tacos off with some delicious avocado crema for a really easy weeknight meal. It's so easy to make up your own blackened seasoning for this recipe, no need to buy store bought. It's a mix of herbs and spices that packs a bit of heat and so much depth. It's perfect for tacos!
You can certainly get ahead of things with these tacos by making the avocado crema and salsa ahead of time. The crema and salsa will keep in the fridge for up to 2 days. This salmon is best served while it is still warm, but if you have any leftovers you can keep it for 3 days and use it to top salads.
Ingredients:
1 tsp paprika
1 tsp dried thyme
1 tsp cumin
1/2 tsp onion powder
1/2 tsp garlic powder
1/4 tsp black pepper
1 tsp salt
2 salmon filets
2 Tbsp olive oil
6 small tortillas
1 cup avocado crema
Kiwi Pepper Salsa
1 red bell pepper, finely chopped
3 kiwis, diced
1/4 cup chopped red onion, finely chopped
2 Tbsp lime juice
2 Tbsp chopped fresh cilantro
salt and fresh black pepper