Honey Almond Nougat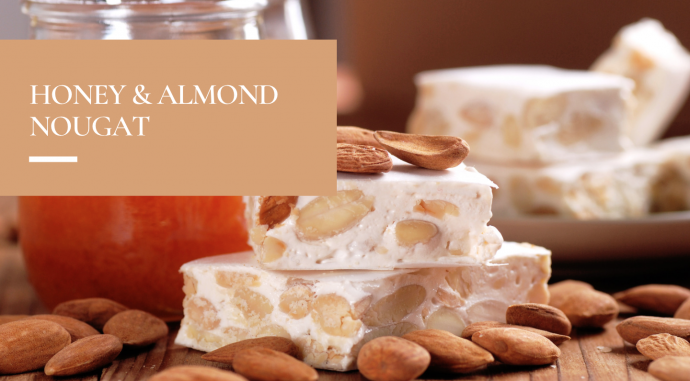 This honey almond nougat will bring a smile to the face of any recipient as they bite into the wonderfully white gooey chewiness. I like to experiment when making this nougat—each time using a different honey, such as orange blossom, wildflower, or lavender, or varying the nuts to include pistachios or macadamias instead. Be creative and try different variations to find your favorite taste!
This recipe requires careful timing, so be sure to have read the instructions carefully and have all of your ingredients prepared before beginning.
Ingredients
7 tbsp liquid honey
1¼ cups granulated sugar
1 tbsp corn syrup
½ cup water
2 medium egg whites (room temperature)
1 tsp vanilla extract
1 cup almonds (whole, toasted)
(Optional) ¾ cup apricots, roughly chopped
1 teaspoons almond extract
1/4 cup butter (softened)
Edible rice paper sheets
Directions
Step 1
Line an 8-inch square pan with plastic wrap, overlapping the sides of the pan. Cover the base with rice paper. Keep the honey warm in a small bowl set in a bowl of boiling water from the kettle. Fill the sink or a large bowl with cold water.
Step 2
Put the sugar and the water into a medium-sized, heavy-bottom pan and set over a low heat until the sugar has completely dissolved. Bring to a boil, without stirring, and cook until the mixture reaches 280°F on a candy thermometer.
Step 3
Stir in the honey and continue boiling until the temperature reaches 311°F.
As it's approaching the critical temperature, beat the egg whites in a stand mixer until stiff, ready for step 4. Beat the whites at high speed for five minutes until they hold firm peaks.
Step 4
While the egg whites are being beaten, continue to cook the sugar syrup until the thermometer reads 315. Monitor the syrup carefully, as it can quickly overheat and burn near the end of the cooking process. Once the syrup reaches 311°F, plunge the base of the pan into the sink or a bowl of cold water to stop the syrup cooking further.
Step 5
Stop the mixer and add the vanilla extract, almond extract, water, salt, and butter. Turn the mixer back on and for an additional five minutes or until a thick ribbon forms when the whisk is lifted from the bowl. Stir in the nuts by hand.
Step 6
Pour the nougat into the prepared pan, and use an offset spatula or knife sprayed with nonstick cooking spray to smooth the top. Cover the top completely with a sheet of rice paper. Place a second 9x13 pan on top of your nougat, and place a large book or other heavy object in the pan to weigh it down. Leave in a cool place overnight to set.
Step 6
When set, cut into pieces (whatever size you like) and wrap in cellophane. This nougat keeps for up to two weeks in an airtight container or sealed plastic bag.
Bon appetit!