Avocado Egg Rolls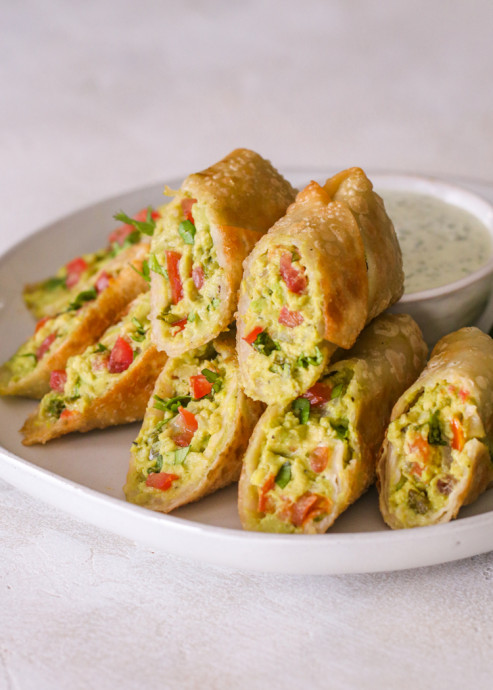 These avocado egg rolls are super quick and easy to make and are ready in under 20 minutes. The filling is just like guacamole except chunkier. I made 12 rolls yesterday and my daughters finished them as soon as they hit the table! That's how delicious they were. We will definitely be making these again and again.
The secret ingredient to make these egg rolls so delicious is the avocado of course! I used Hass avocados because they are always super fresh and perfectly green. I'm seriously obsessed with avocados this year. I love them because they are super healthy and loaded naturally good monounsaturated fat (the good kind!). Avocados can be used in place of saturated fats in desserts such as brownies, cakes, pies, creams, and even smoothies! You can literally add them to just about any dish to give it a fresh kick or eat them alone. Did you know how much goodness is in just one avocado?! One-fifth of a medium avocado (1 oz.) contains only 50 calories and less than 1 gram of sugar. Hass avocados are a "nutrient booster" because they help the body better absorb fat-soluble nutrients like alpha- and beta-carotene and lutein, from foods that are eaten with the fruit! They are also cholesterol and sodium-free, which is a huge plus for me. I can only imagine how much healthier we would be if we ate just one avocado a day in place of carbs and saturated fats! The cilantro dipping sauce is great for dipping fried foods, on tacos, salads and much more. This is one of our all-time favorite dipping sauces and will become a favorite of yours too!
It's super easy to make and is simply made by combining sour cream, mayo, cilantro, garlic, and a squeeze of lime in the blender until green and creamy.
Ingredients:
3 avocados halved, peeled and seeded
1/2 cup tomatoes diced
1/3 cup diced onion
2 tablespoons chopped fresh cilantro leaves
salt and black pepper to taste
Juice of 1 lime
12 egg roll wrappers
1 cup vegetable oil for frying
For the cilantro dipping sauce
1/2 cup fresh cilantro leaves loosely packed
1/4 cup sour cream
1 tablespoon mayonnaise
1 jalapeno seeded and deveined
Juice of 1 lime
1 clove garlic
Salt and freshly ground black pepper to taste