Paleo White Chocolate Macadamia Nut Cookies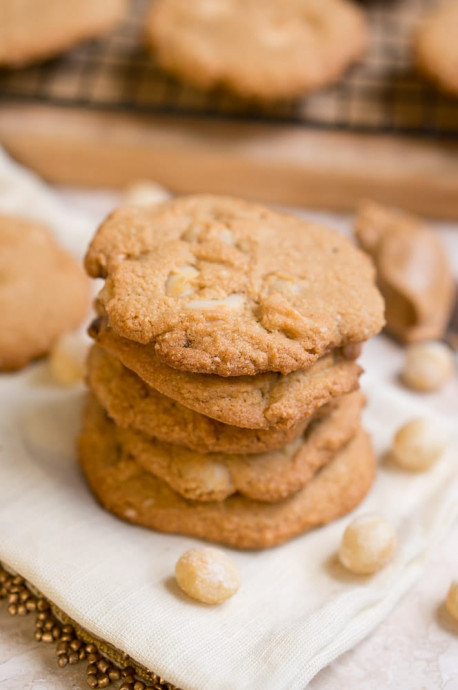 They are a great combination of macadamia nuts, white chocolate chips, and almond butter! And even though they are flourless, they are crispy on the outside, soft, chewy & gooey on the inside, and taste amazing! I mix almond meal, almond butter, 1 egg, maple syrup, coconut oil and baking soda to create these delicious cookies.
These Paleo white chocolate macadamia nut cookies also don't have any added refined sugar. Sugar can have harmful effects on metabolism and contribute to all sorts of diseases. It can cause insulin resistance, diabetes, it raises your cholesterol and can give you a heart disease. It also influences your hormones, your brain, it can make you feel hungrier and the liver converts excess sugar into fat. That's why I try to stay away from refined sugar. I try to satisfy my sweet tooth with naturally sweetened desserts, fruits, and honey/maple syrup sweetened treats. I hope you enjoy these Paleo white chocolate macadamia nut cookies! They are perfect for a family get together, for a holiday party, or for the cookies lover in your life. Chewy, gooey and so delicious!
Ingredients:
1 1/2 cups almond flour
1/2 tsp baking soda
3 Tbsp coconut oil, melted
6 Tbsp maple syrup
1/2 cup almond butter
1 egg
1 tsp pure vanilla extract
1/4 tsp salt
1/2 cup chopped macadamia nuts
1/2 cup white chocolate chips