Red Wine & Mushroom Pork Tenderloin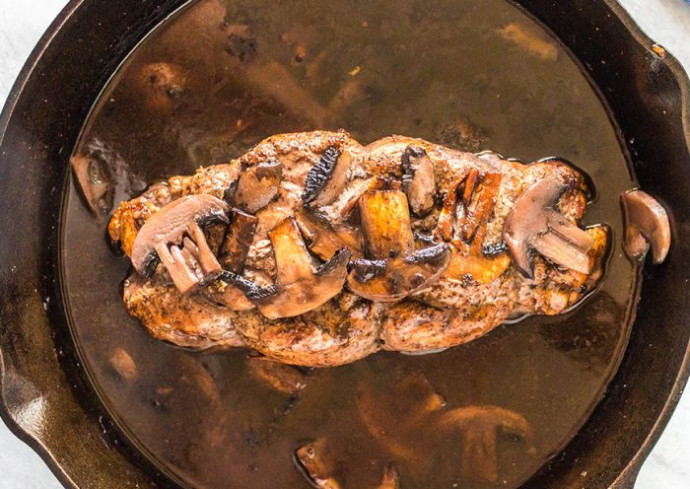 This juicy, tender roasted pork tenderloin is smothered in a red wine and mushroom sauce. I love when recipes sound fancier than they are, and this pork tenderloin recipe falls right into that category.
I also have been on a pork tenderloin kick lately; it's harder to dry it out unlike chops, it's as good as a roast for slicing, it's very, very tender when cooked to the right temperature and the mild taste matches almost anything you want to pair it with.
You could do two smaller roasts as well, there is a lot of sauce to begin with! I find that the largest pork tenderloins are at Costco. For this recipe you can use anywhere from 1-3 tenderloins.The packet of brown gravy in this recipe is a busy cook's secret weapon! It adds a great brown gravy flavor that matches the red wine and the mushroom flavors and also thickens the sauce at the same time. You can always leave it out if you want, simply thicken the thinner drippings at the end of the roast but you will miss a depth of flavor.
The mushrooms cook in the sauce, the larger the mushrooms the more water content they will add, so you might have the thicken the sauce at the end. They add SO much flavor you want them to cook in the sauce.
Ingredients:
2-3 pounds tenderloin
1/2 teaspoon garlic powder
1 tablespoon butter
1 teaspoon pepper
1 cup red wine
1 cup beef broth
1 cup sliced white mushrooms
1 packet brown gravy mix or 1 cup
1 tablespoon corntarch
1/4 cup cold water