Tarator – Bulgarian Cold Cucumber Soup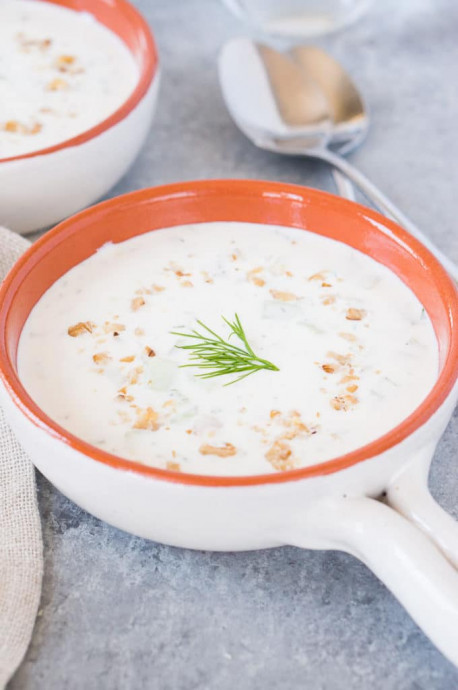 This cold soup is the perfect way to cool down this summer! Tarator is a Bulgarian cold cucumber soup that's super quick and easy to make and so refreshing.
Have you tried tarator before? If you are a fan of chilled soups like gazpacho, you are going to adore this Bulgarian cucumber soup recipe! It's made with only a handful of main ingredients and is ready in minutes.Tarator is a refreshing cold soup made with cucumbers, yogurt, walnuts, and herbs, it only takes about 10 minutes to make this no-cook soup recipe and it's a delicious way to enjoy your cucumbers!
The star of this soup is yogurt. Everyone knows how good yogurt is for your gut and overall health. Tarator is usually served as a starter soup, but I also like to enjoy it as a light lunch. This easy vegetable soup perfect by itself, but you can also serve it with some crusty bread if you like.This tarator soup is best made at least 30 minutes before you plan to serve it so that it can cool in the fridge. You can make the cucumber yogurt soup a day ahead of time and keep it covered, and give it a good stir before serving.
Ingredients:
1 long English cucumber, cut in small dice
2 garlic cloves, minced
3 Tbsp fresh dill, chopped
2 Tbsp olive oil
1 tsp Salt & ½ tsp black pepper
2 cups yogurt
1 1/2 cups water
1/2 cup chopped walnuts