Homemade Thin Mints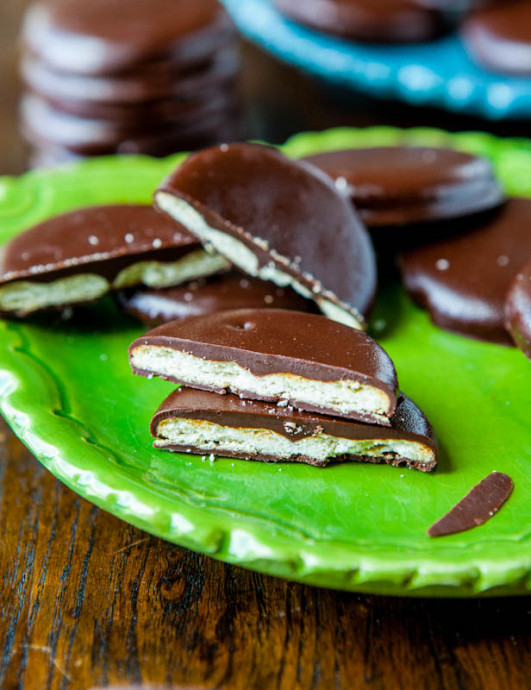 These homemade Thin Mints require just 4 ingredients, and no one ever guesses what the "secret ingredient" is! Perfect for cookie swaps and potlucks! What's the catch, you're wondering? Ritz Crackers.
I promise these homemade Thin Mints don't taste like crackers. The crackers provide a neutral base layer, nice crunch, and are a dead-ringer in size and shape for what will become cookies. When they're drenched in mint-flavored chocolate, you won't know it's a cracker or care that it started out as a cracker.
These copycat Girl Scout Thin Mints taste incredibly close to the real thing and take all of 15 minutes to make! These homemade Thin Mint Girl Scout Cookies call for just four ingredients: Ritz crackers, Semi-sweet chocolate chips, Vegetable shortening, Peppermint extract. Melt the chocolate and shortening. I highly recommend a tablespoon of shortening for any chocolate dipping projects because it keeps the chocolate smooth, viscous, and much less likely to get that hard-before-you-want-it-to and clumpy consistency.
Add peppermint extract to the melted chocolate and get ready to dip. Place dipped crackers, which I now think of as cookies, on parchment paper. (Food goes from cracker status to cookie status the minute chocolate is involved.) Wait for the chocolate to solidify and firm up before digging in. I'm sure you could easily make these gluten-free by using a gluten-free Ritz Cracker alternative.
Ingredients:
18 Ritz Crackers
1 cup semi-sweet chocolate chips, melted
1 tablespoon vegetable shortening, optional but recommended
3/4 teaspoon peppermint extract