Lemon Cheesecake Mousse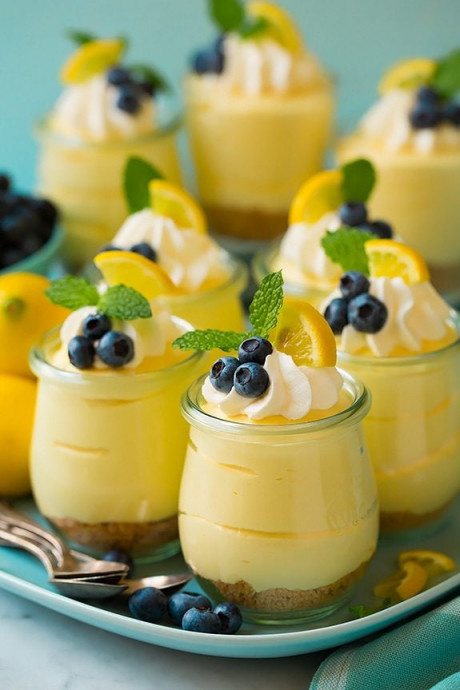 Soft, light and delicious, this lemon mousse is the ultimate spring summer dessert. Made with a graham cracker base and a smooth, silky and luscious whipped cheesecake topping, it's pretty hard to resist!
Could there be a better spring and summer dessert?? In my opinion, this lemon cheesecake mousse is hard to top! It's three of my favorite things in one bright, luscious, rich, heavenly dessert! I absolutely love cheesecake, I love lemon-flavored everything and I could eat mousse for breakfast lunch and dinner.
So, what I'm getting at is this dessert was made for me, quite literally :). I originally had tried another lemon mousse recipe earlier this week (this one here) that I thought I'd love. The flavor was oh so fresh and lemony, but the texture was nothing like what I think of mousse to be. It was more of a droopy whipped cream texture with just a little more density to it.
These individual mousse cups would be perfect for Easter and Mother's Day, or for any get together for that matter. And of course they are also perfect for a weekend treat! This cheesecake lemon mousse should be served cold. Keep it in the fridge until you're ready to serve it for best results. I topped my lemon cheesecake mousse with lemon slices, sweetened whipped cream, mint leaves, and fresh berries as well.
Ingredients:
Crust
3/4 cup crushed graham crackers (6 full sheets)
2 Tbsp (26g) granulated sugar
3 Tbsp (42g) salted butter, melted
Mousse
2 1/2 Tbsp fresh lemon juice
1 1/2 Tbsp water
1 1/2 tsp unflavored gelatin powder
1 1/2 cups (355ml) heavy cream
1 cup (110g) powdered sugar, divided
Yellow food coloring (optional)
12 oz (340g) cream cheese, softened
1 (10 oz) jar lemon curd (tested with Dickenson's)
Sweetened whipped cream , lemon wedges, blueberries and mint for garnish (optional)