Healthy Popcorn Trail Mix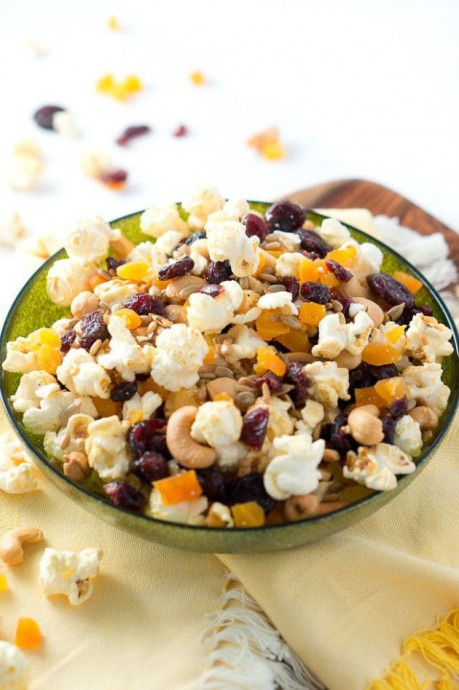 Sweet and salty – this healthy popcorn trail mix has it all! Perfect for snacking, a party and any holiday! So easy to make too. What I love about this healthy popcorn snack is that you get to enjoy the taste, flavors, and satisfaction without over consuming unhealthy ingredients. One to two cups of popcorn with a small handful of nuts, seeds, and dried fruits will hit the spot.
This healthy popcorn trail mix is also a fantastic and easy snack for family game nights or for a party. If you like making popcorn for family movie nights, like I do, I think you will enjoy this popcorn trail mix. The combination of sweet & soft dried fruits, crunchy nuts, and popcorn is amazing! You can munch away guilt free while watching your favorite football team play. Everyone will enjoy this tasty BOOM snack mix while watching the game. You can substitute any nuts/fruits of choice in this recipe to create your own.
Ingredients:
8 cups popcorn
1 cup chopped dried apricots
1 cup dried cranberries
1 cup roasted cashews
1/2 cup roasted sunflower seeds