Broccoli Rabe Ricotta Gnudi With Parmesan Cream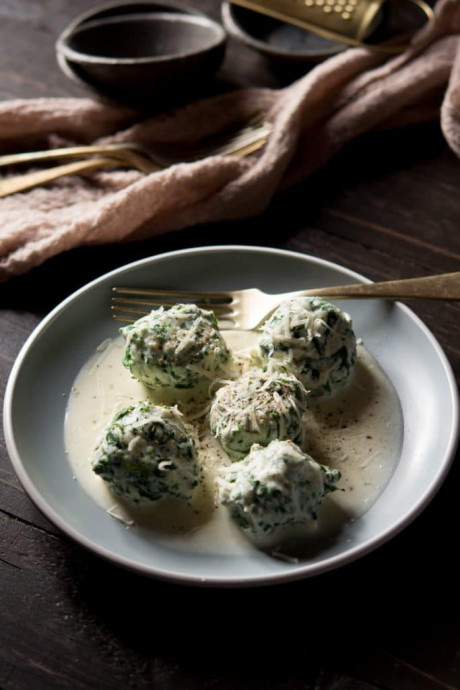 An absolutely delicious recipe for broccoli rabe and ricotta gnudi with a simple parmesan cream sauce. Light and soft gnudi that melt in your mouth with the most amazing cheesy sauce, a special dinner without the effort. Gnudi meaning nude in Italian are delicious, light little dumplings made with ricotta cheese instead of potato as gnocchi are. They are much quicker to make than regular gnocchi and are often seen mixed with cooked spinach. They are cooked in the same way as gnocchi, placed carefully into boiling water and left to float to the surface when ready.
I made these gnudi with broccoli rabe, a leafy, slightly bitter, green vegetable that is absolutely delicious mixed with creamy, soft ricotta cheese.
These ricotta gnudi are so easy to make and the parmesan cream (my favourite thing ever) takes only a few minutes at the very end. It's an incredible comfort food dish that can be whipped up any day of the week yet is special enough to serve for special occasions or date night.
Ingredients:
For the Gnudi
10.5 oz (300g) Broccoli Rabe
14 oz (400g) Ricotta
½ cup 85g plain flour
1 egg
1 garlic clove , minced
1 tbsp parmesan grated
1 pinch nutmeg
1 pinch of salt and pepper
For the parmesan cream
½ tbsp olive oil
1 cup (250ml) double (heavy) cream
1 pinch nutmeg
1 garlic clove
1 pinch of salt and pepper
¼ cup 25g parmesan grated