Sweet Honey Skillet Cornbread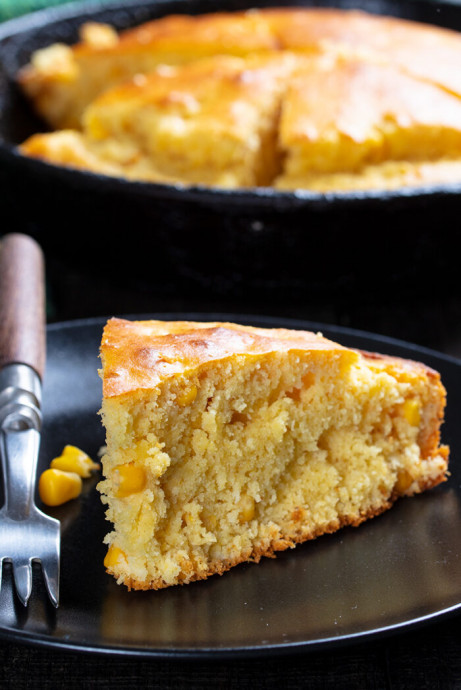 This is a sweet honey-based cornbread that has corn niblets added as well, which is another thing that I enjoy in a good cornbread. You can leave those out if you don't like the texture, but I love the added corn flavor! Now this type of sweet cornbread that uses sugar or honey is not traditional savory Southern cornbread. Southern cornbread uses very little sugar and a lot of cornmeal compared to flour. This skillet cornbread is closer to the Northern type of cornbread, which is more like a cake.
Learn how to make the perfect cornbread: Soaking the cornmeal is an important step texture-wise, so make sure not to skip it! This is how you get a more cake-like cornbread rather than a grainy one. Preheating the skillet gets that lovely crust on the bottom and sides of the cornbread, but if you don't like removing a hot skillet from the oven you can skip this. It will still work out! I love the corn niblets for the added boost of corn flavor that they add and I like the texture, but you can skip this if you don't like pieces of corn in your cornbread.
Ingredients:
1 tablespoon vegetable oil or bacon grease to grease the skillet
1 1/4 cups milk or buttermilk if you want richer and tangier
1 cup cornmeal
1 cup corn niblets canned, cooked, frozen and defrosted, your choice they just need to be drained
Dry Mixture
1 cup all-purpose flour
4 teaspoons baking powder
3/4 teaspoon salt
Wet Ingredients
2 large eggs beaten
1/4 cup butter melted
1/3 cup honey melted and measured