Zucchini Ricotta Torta With Mixed Greens!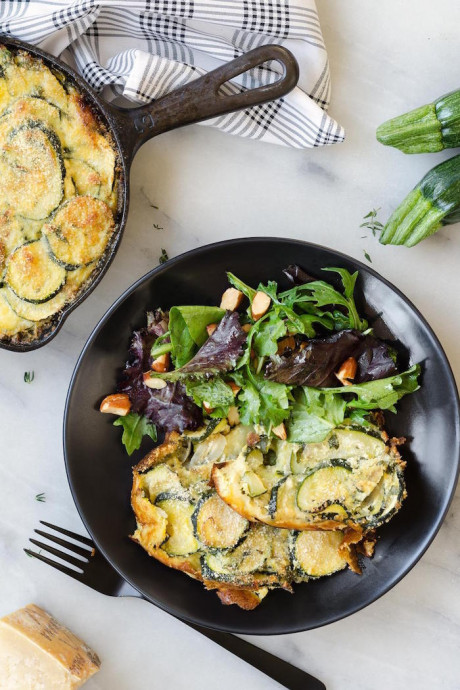 Looking to add more vegetables to your diet? Then this Zucchini Ricotta Torta from Sun Basket Meal delivery is for you! Packed with zucchini and served with mixed greens you will certainly meet your daily requirements of veggies.
In Mexico, torta commonly means "sandwich," but huevos en torta, a dreamy cross between a frittata and a crustless quiche, is worth getting to know. Sun Basket's version consists of thin slices of sautéed zucchini, lightly bound in eggs with ricotta and Pecorino Romano. I love it alongside a green salad. Just look at those crispy, cheesy edges! I use this recipe as a main course but it's also a delicious vegetable side dish.
It's simple, tasty, and healthy, so you can make a big batch tonight and enjoy the leftovers the next day.
Ingredients:
2 tablespoons butter to prep baking dish
3 tablespoons olive oil divided (to prep pan and for salad dressing)
2 tablespoons bread crumbs gluten free works great!
1 to 2 shallots
1 to 2 garlic cloves
1½ pounds zucchini
1 lemon
2 Tablespoons Fresh flat-leaf parsley
2 sprigs Fresh thyme
¼ cup fresh ricotta
¼ cup grated Pecorino Romano
2 pasture-raised organic eggs
1½ ounces almonds