General Tso Ramen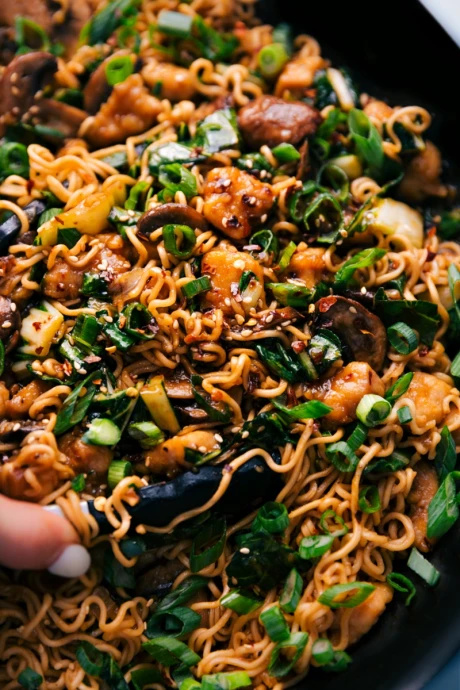 Sweet and spicy General Tso Ramen combines tender chicken, sautéed mushrooms, and bok choy with ramen noodles and a flavor-packed fragrant stir-fry sauce.
Instant ramen noodles, tender chicken, sautéed veggies, and a sweet-spicy stir-fry sauce come together in about 30 minutes or less (using some of the shortcut ideas I share in this post) to deliver a total crowd pleaser. First things first: General Tso Chicken is known for having a kick and this recipe is no exception. That said, it is easy to scale the spice up or down. Just know that you are reducing some flavor when reducing the spice.
For the spicy part of General Tso, we're using a chili garlic sauce (see the "quick tip" below). A little goes a long way, so if you're worried about this dish being too spicy, I'd recommend starting with less. You can always add more if you're craving more flavor or spice. If you don't have chili garlic sauce, you can use red pepper flakes; I'd start with 1/2 teaspoon in this recipe. I don't find there to be as much flavor this way, but it will work in a pinch.
If you don't love spicy flavors, I'd recommend starting with just 1 teaspoon of chili sauce for a small amount of heat. With the amount of sugar in this dish, we find one teaspoon still has a slight kick, but it's very manageable. Two teaspoons will give you a medium amount of heat and three teaspoons is a good, hot General Tso spice — it's pretty spicy.
Note that if you do reduce the amount of chili sauce added, you might also want to reduce the sugar. The sugar balances the spice so if you don't add a lot of the chili garlic sauce, you might not want as much sugar.This ramen is delicious right out of the skillet, but it's always better with a few garnishes. Add as many or few as you'd like; green onions are our "must-have" garnish.
Ingredients:
Sauce/Chicken Marinade:
3 tablespoons all-purpose soy sauce (not lite or dark)
3 tablespoons hoisin sauce
1 tablespoon cornstarch
1 tablespoon rice vinegar
1 teaspoon chili garlic paste up to 3 teaspoons Note 1
1/4 cup (34g) light brown sugar Note 2
3/4 cup (155g) low sodium chicken broth
1 tablespoon toasted sesame oil
1/4 teaspoon EACH: white pepper and fine sea salt
Chicken:
3/4 pound (12 oz; 340g) chicken thighs or chicken tenders, cut into 1/2-inch pieces (measure AFTER being trimmed of fat)
1 tablespoon toasted sesame oil
1 tablespoon EACH: ginger and garlic
1/4 cup (33g) cornstarch
1/4 teaspoon EACH fine sea salt and pepper
Stir-Fry:
2 tablespoons vegetable oil
1 cup (125g) diced yellow onion
3 packets (3 oz; 85g EACH) ramen (instant) noodles
2 cups (125g) thinly sliced mushrooms
5 cups (202g) thinly sliced bok choy leaves (~1 large bok choy)
Optional Garnish: Finely sliced green onion, red pepper flakes, additional toasted sesame oil, toasted sesame seeds