Pear And Brie Salad With Honey Champagne Vinaigrette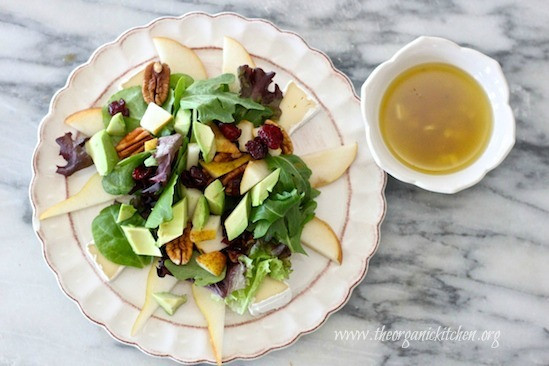 This gorgeous salad is perfect for summer parties and family lunches! A fantastic combination of creamy Brie, fresh pear and toasty pecans, healthy and filling!
Greens set atop an arrangement of Brie and pears, and then topped with raw pecans and drizzled with a Honey Champagne Vinaigrette. Heavenly. Brie is a soft creamy cheese from France encased in a grayish white 'rind', otherwise known as mold. If that bothers you go ahead and cut it off (don't worry about all those French chefs turning over in their graves). This salad is all about the arrangement! It's like a little star burst…if stars were made of fruit and cheese. Of course our salad dressing is made with heart healthy olive oil and tummy pleasing vinegars.
Ingredients:
The Salad:
4 cups baby field greens
2 pears, thinly sliced
1- 8 oz round brie cheese, thinly sliced (4-6 slices per salad)
1/3 cup dried cranberries
1/2 a ripe avocado, optional
1/3 cup raw pecans, or go fancy and caramelize them
Honey Champagne Vinaigrette:
1/2 cup extra virgin olive oil
1/4 cup Champagne Vinegar
2 tsp apple cider vinegar
1 Tablespoon minced shallots
1 Tablespoon honey
1 pinch sea salt (I use Maldons)
few turns freshly ground pepper