Banana Walnut Brownies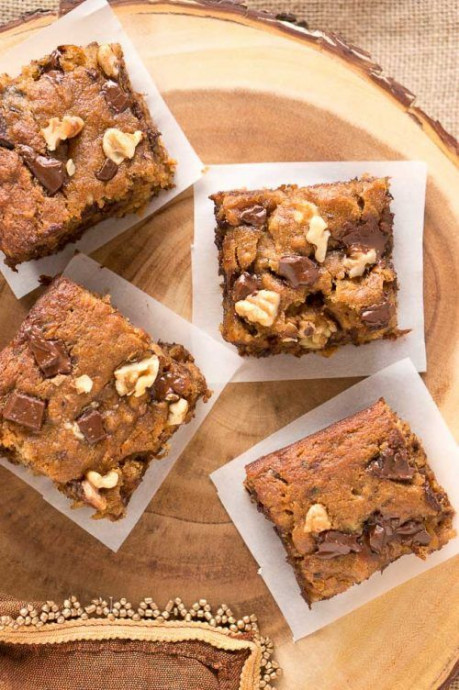 These Banana Walnut Brownies are moist, fudgy, and delicious. They are very easy to make – great for a last minute dessert that everyone will love. Looking for the perfect gluten-free banana walnut brownie recipe? These homemade brownies are gluten-free, Paleo, flourless, dairy-free and grain-free. They are made with bananas, eggs, coconut flour, chopped walnuts, and chocolate chunks. This recipe will become your new go-to recipe for gluten-free banana brownies.
In this recipe, I use a combination of almond butter and only 1/4 cup of coconut oil. This makes the brownies somewhat healthier. What can you add to these banana walnut brownies? Try to add walnuts and chocolate. They create a nice crunchy texture. You can also add: Melted peanut butter swirls on top, Raspberry sauce swirls, a layer of a nut butter. Top with a scoop of ice cream. The brownies are fudgy, moist and so delicious!
Ingredients:
3 bananas, (2 1/2 cups mashed)
3 eggs
1/4 cup melted coconut oil
1/2 cup almond butter
1 tsp pure vanilla extract
1/2 cup coconut flour
1/2 cup coconut sugar
1 tsp baking soda
1 tsp baking powder
1/2 tsp cinnamon
pinch of salt
4 oz chocolate bar, (chopped in 1/2 " chunks)
1 cup chopped walnuts