Orecchiette with Sausage and Broccoli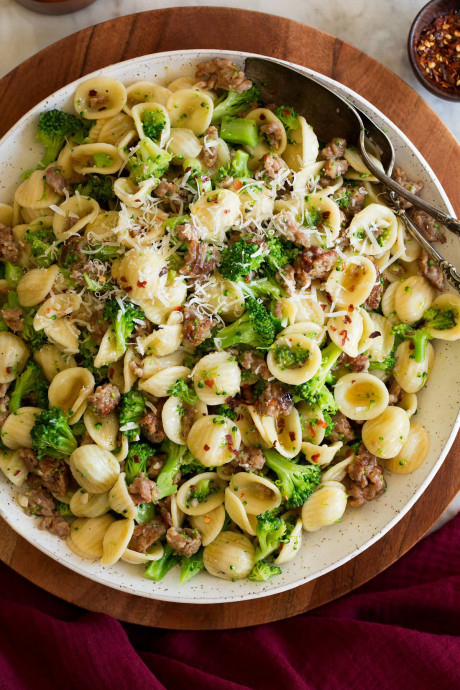 Orecchiette Pasta with Sausage and Broccoli is a super simple recipe that uses minimal ingredients yet packs rich, savory, satisfying flavors. It includes hearty pasta, seasoned Italian sausage, tender fresh broccoli, flavorful olive oil, and bold and nutty tasting parmesan. Orecchiette is a type of southern Italian pasta shaped like little ears. The word 'orecchia' translates to 'ear' while the suffix 'etta' translates to 'small' or 'little'.
It is made from semolina flour and can be found in two sizes, but in the U.S. usually just one size (in this recipe we use the larger size that's about 1/2-inch, the smaller works well for soups).
Orecchiette holds sauces well with it's bowl form, and it's a fun unique shape to cook with.
You can purchase it online, or I've also found this type of pasta at Target and larger Kroger stores. You'll love it in this easy recipe!
Tips
Remembering pasta water: If you have a hard time remembering to reserve pasta water before draining the pasta, you can set a 2-cup glass measuring cup in the colander in the sink as a reminder to ladle out some of that pasta water and reserve before draining.
Don't sub pasta water: It is critical to use pasta water and not just tap water or even broth because it won't have the necessary starches to help bind and emulsify the sauce – including the oil, cheese and water.
Sear and brown the sausage: Only toss the sausage occasionally while cooking. You want it to brown and not steam. I like to begin with chunks and let them really sear on that first side then start turning and breaking up after a few minutes.
Start with a hot skillet: A preheated hot skillet is also critical to achieve a nice sear on the sausage.
No soggy pasta: Set a timer for the pasta and only boil close to al dente because it will cook a second time in the skillet to your preferred texture.
Keep the sausage fat: Don't drain that rendered sausage fat! It adds lots of flavor here.
Add extra olive oil as needed: Add more olive oil to taste. I prefer to add a few extra tablespoons for richness and flavor. It can vary how much you may need depending on how fatty the batch of sausage was and how much rendered fat it gives off.
Make the splurge: Use good quality parmesan such as Murray's from the big cheese wheels at the deli.
Ingredients:
1 lb broccoli crowns, bottom stalk trimmed and reserved for another use, remaining cut into florets
Salt and freshly ground black pepper
12 oz. orecchiette pasta
4 Tbsp extra-virgin olive oil, divided, plus more if desired
1 1/2 Tbsp minced garlic (4 cloves)
1 lb Italian sausage* (can use mild or hot)
2/3 cup (1.6 oz) finely shredded Parmesan, plus more for serving
1 1/2 cups reserved pasta water, divided
Red pepper flakes, for serving