Easy Vegan Moussaka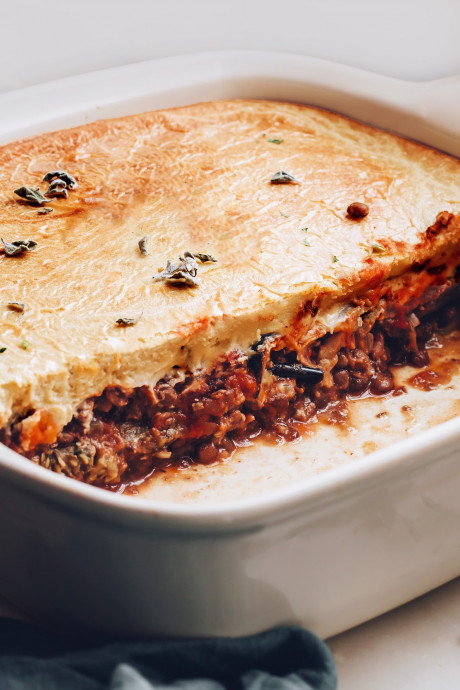 This vegan moussaka recipe was a work in progress for weeks until we got the perfected method just right! Layers of roasted eggplant meld perfectly with a hearty tomato lentil filling, which is topped with a show-stopping roasted garlic cashew bechamel.
Flavor is abundant here despite the 10 simple ingredients required. Let us show you how it's done!
Moussaka is a popular dish in Greece and beyond. It's typically made with layers of ground meat, eggplant, and a bechamel sauce. But other variations of the dish with different ingredients also exist and vary by region.
The exact origin of moussaka is unknown, but it's believed to have Arab roots and may have been inspired by a Levantine dish called musakhkan. The addition of a French bechamel sauce is thought to be the contribution of Greek chef Nikolas Tselementes in the early 1900s.
Our version is not traditional but is our plant-based take on the delicious concept of layering roasted eggplant, a hearty filling, and a rich, creamy bechamel sauce.
This vegan moussaka consists of three layers: 1) roasted eggplants slices, 2) a lentil tomato filling, and 3) a roasted garlic bechamel sauce.
Before roasting the eggplant, we sprinkle it generously with salt and allow it to sit in a colander or bowl. This helps draw out the moisture so that once roasted, it's perfectly fork tender with sweet, caramelized edges.
The filling starts with sautéing onion and garlic. Next come the lentils and tomatoes, which are simmered with salt, pepper, oregano, and optional nutmeg.
But the star of the show is the roasted garlic bechamel. Roasting garlic turns it from sharp and pungent to mild and sweet. When blended with cashews, olive oil, salt, nutritional yeast, and water, it becomes a creamy, knock-out sauce.
Ingredients:
ROASTED GARLIC (for bechamel)
1 head garlic, average size
1 tsp olive oil
EGGPLANT
2 small to medium eggplant
2 Tbsp salt (for sweating the eggplant)
2 Tbsp olive oil (if oil-free, omit)
BECHAMEL
1 cup raw cashews, soaked
2 Tbsp olive oil
1 Tbsp nutritional yeast, plus more to taste
1/4 tsp sea salt, plus more to taste
3/4 cup water
1/8 tsp nutmeg (optional)
FILLING
1 Tbsp oil (if oil-free, sub twice the amount in water or vegetable broth)
1 cup white or yellow onion, chopped
3 cloves garlic, minced
1 (15-oz) can green or brown lentils, drained and rinsed (1 can yields ~1 1/2 cups cooked)
1 (15-oz) can crushed tomatoes
1/4 tsp each sea salt + pepper, plus more to taste
1 tsp dried oregano (or 2 tsp fresh)
1/8 tsp nutmeg (optional)