Summer Cucumber Salad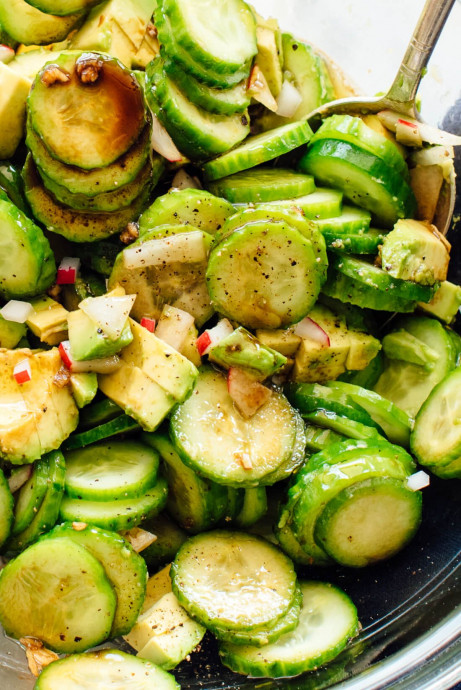 This salad recipe is the best cucumber salad I've ever had! It's made fast with simple ingredients. Somehow, crisp cucumber, creamy avocado and a super basic balsamic dressing create a stellar cucumber salad. Recipe yields 4 servings.
I found Persian cucumbers at Trader Joe's. They're smaller in diameter, extra-crisp, and less seedy and watery than regular old cucumbers. If you can't find them, opt for English cucumbers, which are similar in texture.
Don't overdo the garlic in this recipe, or it will overwhelm the other flavors (speaking from experience here). Two small-to-medium cloves or one large clove will be just right.
No need to bust out your thick, expensive balsamic vinegar for this recipe. Regular balsamic will do great.
This recipe is best served immediately, since the avocado browns over time. However, if you toss it well, you can refrigerate leftovers for a few hours.
Toss in arugula and cherry tomatoes, if you want this salad to go further. I added a chopped radish mostly for color, honestly, but it's also nice and springy.
Ingredients:
3 tablespoons extra-virgin olive oil
2 tablespoons balsamic vinegar
2 small-to-medium cloves garlic, pressed or minced
Kosher salt and freshly ground black pepper, to taste
1 ripe avocado, pitted and sliced or diced
4 Persian cucumbers or 2 medium English cucumbers (12 ounces), thinly sliced
Optional additions: 1 to 2 cups arugula, ½ cup halved cherry tomatoes, and/or 1 to 2 chopped radishes