Easy Vegan Paella (1 Pan!)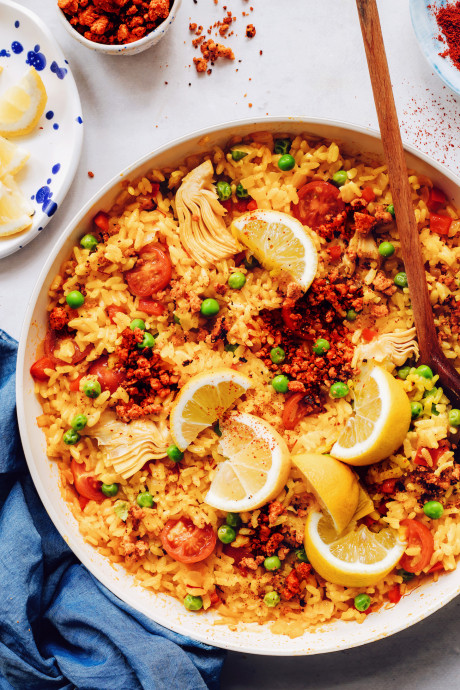 If you think paella is too difficult to make, think again! This one pan wonder is surprisingly approachable, incredibly flavorful, and customizable based on taste and season. We couldn't help but add some vegan chorizo (check out our recent recipe here) for even more substance. Let us show you how it's done! Paella is a rice-based dish originating in Valencia, Spain. The word paella means "frying pan," and the dish is traditionally made in a shallow, wide pan with handles on the sides, sometimes also called a paellera.
Paella typically includes rice, saffron (which gives it a yellow color), meat or seafood, broth, and spices. It's traditionally simmered over an open flame where it develops a crispy crust called socarrat.
Our version is not traditional but is our plant-based take on this delicious Valencian dish. You can find a more traditional (not vegan) paella recipe here from Spain on a Fork.
Ingredients:
1/2 tsp saffron
3 Tbsp lemon juice
1 Tbsp olive oil (if oil-free, sub vegetable broth)
1 ½ cups diced yellow onion (~1 medium onion as recipe is written)
1 cup diced red bell pepper (~1 medium pepper as recipe is written)
3 Tbsp minced garlic (~6 cloves garlic as recipe is written)
2 tsp smoked paprika
2 tsp sea salt
2 cups arborio rice
4 cups vegetable broth
1 cup quartered, marinated artichoke hearts, marinade reserved (~12-ounce jar as recipe is written)
1 cup cherry tomatoes, halved
1 cup frozen peas
1 batch Easy Vegan Chorizo (or sub store-bought such as El Burrito Soyrizo and avocado oil for cooking)
Lemon wedges