Blueberry Yogurt Cookies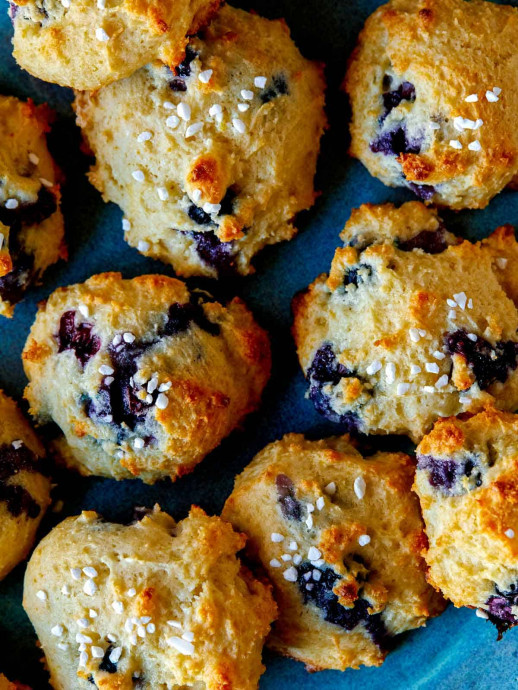 These Blueberry Yogurt Cookies are light, fluffy, so simple to make, and uses yogurt as a healthier alternative to butter. They're the perfect summer cookie to make in under 30 minutes!Summer is such a great time for fresh produce. There's so many delicious things in season, including one of my favorite fruits, blueberries! I love going to the farmers market and picking up a couple pints to snack on and to bake with.
One of my favorite things to bake with fresh blueberries are these Blueberry Yogurt Cookies! These cookies are so easy to make, really light fluffy and totally delicious! I add the Swedish pearl sugar on top because I love the sweet little bits of crunch they add to the cookies. These are basically everything you could want in a summer cookie!
Variations
The Greek yogurt can be replaced with sour cream for a 1:1 ratio. The Greek yogurt can also be replaced with plain yogurt, but make sure to reduce the amount to 1 cup.
The blueberries can be swapped out for blackberries or chopped strawberries.
A thin vanilla or lemon glaze can be drizzled over the tops of the cookies for added sweetness and decadence.
The Swedish pearl sugar can be omitted if a soft cookie without a crunchy top is desired.
If you want to make flatter cookies like the below image, replace greek yogurt with 2 cups of plain yogurt.
Ingredients:
2 cups all purpose flour
1 ½ teaspoons baking powder
½ teaspoon baking soda
¼ teaspoon salt
1 ¼ cup superfine sugar granulated works fine
1 ¼ cups Greek yogurt
1 egg, lightly beaten
1 lemon, zested
1 teaspoon fresh lemon juice
½ teaspoon vanilla extract
1 ¼ cup fresh blueberries
½ cup Swedish pearl sugar