Vegan Mango Nice Cream Bars (Gluten-Free)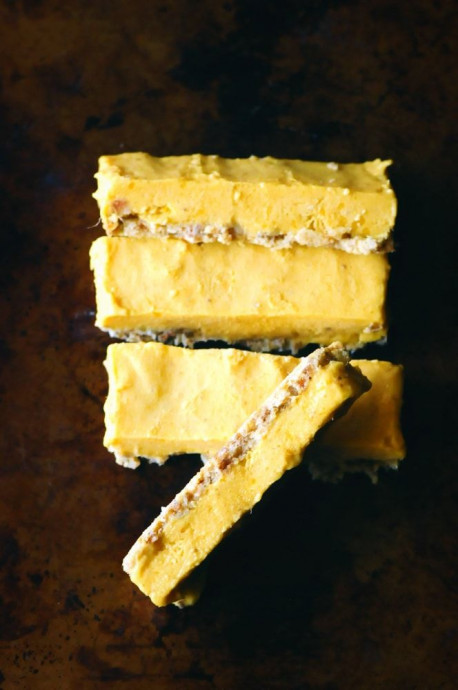 These Vegan & Gluten-Free Mango Nice Cream Bars make for one easy, healthy, delicious, and refreshing frozen treat! A creamy frozen mango banana ice cream filling sits atop a chewy cardamom almond crust in this delightful dessert. Where do I start with this one? I was beyond pleased with how these Mango Nice Cream Bars turned out! I was in the mood for a delicious treat, but didn't want any added sugar. And while I love dates, sometimes I get a little burnt out on their use in healthy desserts; so I turned to golden raisins for a little experimentation. The result? DIVINE.
These creamy nice cream bars have a heavenly vegan banana mango ice cream filling with an amazing chewy and flavorful cardamom almond flour crust. The flavor combos in this healthy treat are out of this world! And best of all? It is ridiculously easy to make. I greatly prefer the flavor of golden raisins in this recipe but regular raisins or any small dried fruit of your choice will work well. I recommend purchasing unsweetened for best results.
Instead of purchasing almond flour, you can also make your own almond meal by placing almonds in a food processor or blender and blending until a powder forms.
These bars will store well in an airtight container in the freezer for up to 2 weeks.
Ingredients:
Chewy Cardamom Crust
1 cup golden raisins or medjool dates
3/4 cup almond flour or meal
1 tbs coconut oil
contents of 1 green cardamom pod or 1/4 tsp ground cardamom
Mango Nice Cream
2 frozen bananas
1 fresh ripe mango
3 tbs coconut oil
pinch ground turmeric
pinch ground cinnamon