Creamy Vegan Strawberry Ice Cream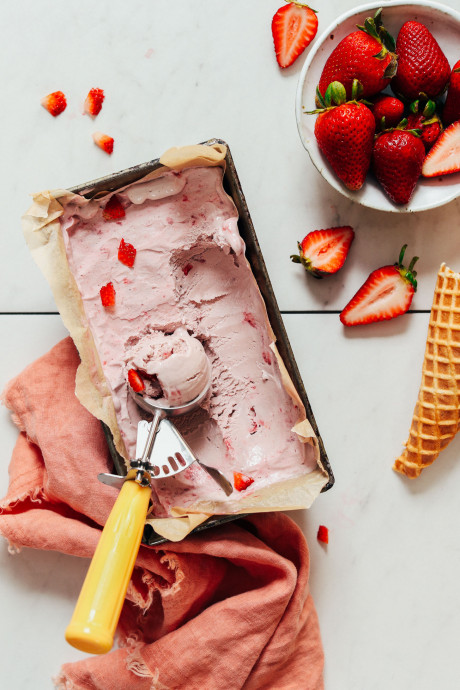 Oh strawberries, how we love you. You're sweet and juicy, loaded with vitamin C, and also give us fiber, folate, potassium, and more. Plus, you make some seriously dreamy ice cream!I used fresh strawberries (versus strawberry flavor or syrup) to maximize both nutrition and flavor. Making the strawberries into a compote concentrates their flavor and reduces the amount of liquid that can cause the ice cream to be icy versus creamy.
Friends, this vegan strawberry ice cream is the only ice cream you need this season. Fresh ripe strawberries infused into our classic vegan vanilla ice cream for the ultimate summer treat. It's got everything you want: creaminess, sweetness, vibrant strawberry flavor, strawberry flecks! Plus, just 7 ingredients required. Let me show you how it's done! It's the perfect treat to make after a trip to the berry patch or to have in your freezer for warm summer evenings.
Ingredients:
STRAWBERRY COMPOTE
2 cups sliced strawberries (as ripe as possible for best flavor)
1 Tbsp maple syrup
1-2 Tbsp water (or orange juice)
1 ½ tsp cornstarch
ICE CREAM
2 (14-ounce) cans full fat coconut milk (ensure it's a quality brand*)
1/4 cup raw cashew butter
1/4 cup maple syrup or agave nectar (or sub all organic cane sugar)
1/4 cup organic cane sugar (or sub all maple syrup)
1 Tbsp pure vanilla extract (or sub fresh vanilla from a vanilla pod, though the alcohol in extract ensures the ice cream doesn't freeze too firmly)
1/2 tsp xanthan gum (for creamier texture // if you don't have, omit)
1 Tbsp olive oil or avocado oil (optional // for a bit of added creaminess)
2 Tbsp minced fresh ripe strawberries (optional)