Chicken Satay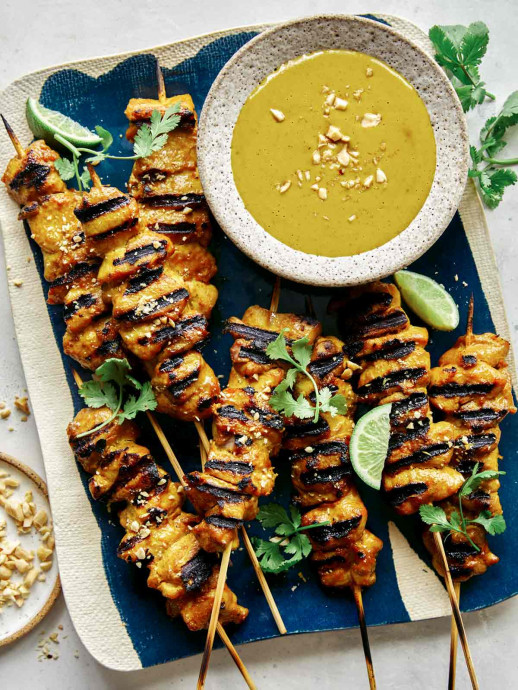 Chicken Satay originated in Indonesia but has become a popular dish throughout Southeast Asia in other countries like Thailand, Malaysia, Singapore, and Philippines. Although there are tons of varieties of satay that exist today, to be considered true satay there must be a grilled meat and dipping sauce component. A simple and delicious recipe for juicy, char-grilled, flavor packed Chicken Satay with an equally delicious peanut dipping sauce! They make great appetizers or even a delicious dinner served with some steamed rice and simple cucumber salad!
Chicken Satay is one of my favorite skewered meats to eat! The flavors are outrageously good and pair so well with the creamy and tangy peanut sauce! We use chicken thighs in our recipe to ensure every bite is tender and juicy and chicken thighs are also a little more forgiving when it comes to cooking them up.
Don't be intimidated by the list of ingredients, most of the ingredients are easy to find or you probably have them in your pantry. Once you have the ingredients gathered and measured, the recipe is SO easy!
Ingredients:
1 1/2 pounds boneless, skinless chicken thighs, cut into 1-inch pieces (about 6)
satay marinade
1/2 cup dry roasted peanuts
⅓ cup light brown sugar
6 tablespoons soy sauce
¼ stalk lemongrass, chopped (about 3 inch piece)
3 garlic cloves, chopped
2 makrut lime leaves, chopped OR 1 lime, zested and juiced
1 tablespoon minced ginger
1 tablespoon turmeric
¼ teaspoon curry powder
¼ teaspoon black pepper
3 tablespoons vegetable oil, divided
spicy peanut sauce
⅓ cup reserved marinade
¼ cup dry roasted peanuts
3 tablespoons vegetable oil
1 ½ tablespoons soy sauce
1 lime, zested and juiced
1 to 3 Thai chiles, seeded depending on desired heat
1 garlic clove, chopped
1 green onion, thinly sliced
garnish
2 tablespoons crushed peanuts
cilantro leaves