Steelhead Trout Recipe with Lemon Caper Sauce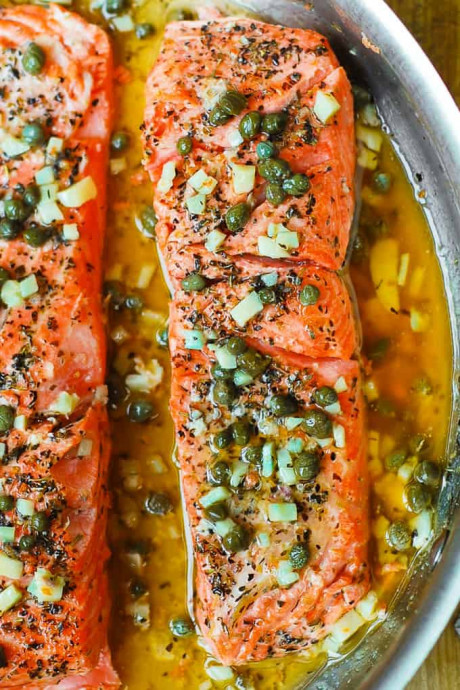 Steelhead Trout Recipe with Lemon Caper Sauce takes only 30 minutes to make. The fish is seasoned with Italian seasoning and served with a delicious lemon-flavored sauce. This simple dinner is low in carbs and rich in lean protein and healthy omega-3 fatty acids.
Steelhead trout is a delicious fish with a delicate flavor. You don't need a ton of seasoning to make it taste good. Keep it simple and basic and you have a beautiful meal! This recipe uses simple ingredients: olive oil, Italian herb seasoning, salt and pepper, minced garlic, capers, and lemon juice. That's pretty much all you really need (plus 30 minutes of your time) to prepare the best steelhead trout!
Get fish on your menu! Eating fish regularly is a good way to get proper nutrition. Trout is low carb and contains a good amount of protein. There are also health benefits to eating trout since it is packed with omega 3 fatty acids.
If you love fish or wish to incorporate more of it into your weekly menu, try this pan-seared trout recipe with garlic lemon butter herb sauce or baked garlic parmesan crusted salmon and asparagus. Easy recipe – minimal cleanup. In this easy recipe, the steelhead trout is pan-seared on the stovetop in a large skillet, and the lemon caper sauce is made in the same skillet. The whole recipe takes 30 minutes from start to finish, and the cleanup is minimal (only one skillet to clean).
Ingredients:
Steelhead Trout Ingredients:
1.5 lb steelhead trout (3 fish fillets)
1 tablespoon Italian herb seasoning (dried thyme, oregano, parsley, combined)
salt to taste
1 tablespoon olive oil
Lemon Caper Sauce Ingredients:
2 tablespoons capers (drained)
4 cloves garlic (minced)
3 tablespoons lemon juice (freshly squeezed)
2 tablespoons butter (softened)