Maple Walnut Goji Berry Granola (Vegan, Gluten-Free)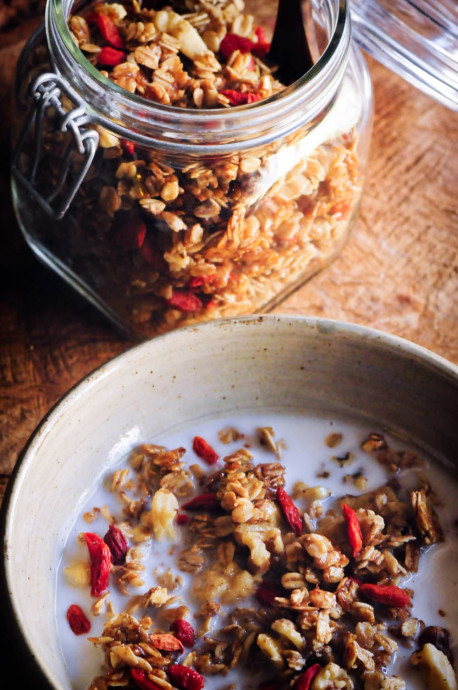 This easy, healthy and delicious Maple Walnut Goji Berry Granola makes for one satisfying gluten-free vegan breakfast, snack or refined sugar-free treat!
We are a big fan of homemade granola in this household! It is such an easy, healthy and tasty thing to throw together for a quick breakfast, snack or dessert; and it's a great thing to grab to take on a hike or trip to the park.This particular granola is packed with antioxidant-rich goji berries (also know as wolfberries!) Goji berries are chock-full of nutritional benefits including being protein & fiber-rich, full of anti-inflammatory effects, blood sugar balancing, and mood boosting! Throw in some nutrient-dense and filling raw walnuts + wholesome flavors and you are in for one healthy treat!
Ingredients:
2 1/2 cups rolled oats certified gluten-free if necessary
7 tablespoons maple syrup
3 tablespoons coconut oil
1/2 teaspoon ground cinnamon
1/4 teaspoon sea salt
3/4 cup raw walnuts roughly chopped
1/2 cup goji berries also known as wolfberries