Cornbread Pudding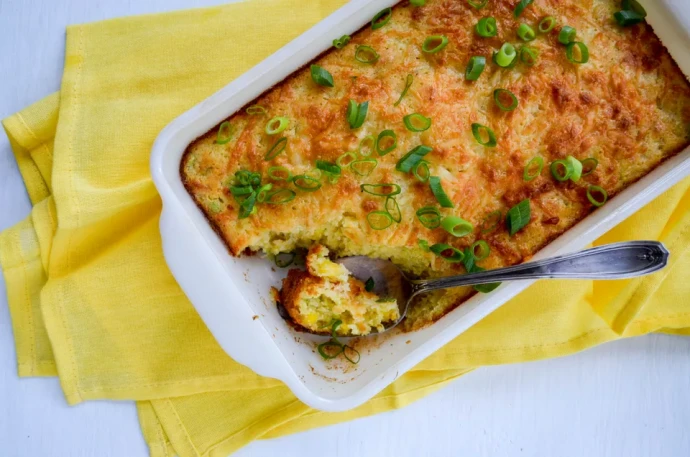 Cornbread pudding is the best of both worlds when you're torn between serving corn pudding or spoon bread, both favorite Southern side dishes. Corn pudding is a dense, eggy, corn-laden casserole, in contrast to its light, ethereal cousin spoon bread, a souffle-like side with kernels of corn suspended between a mostly cornmeal filling.
This cornbread pudding combines the best of both recipes into a hearty but not too heavy casserole, moister than your average cornbread, but not custardy like a pudding, making it worthy of holiday celebrations, but humble and easy enough for weeknight dinners alike.
We've created the recipe using frozen corn to ensure you can make this cornbread pudding year-round, but feel free to use fresh corn when it's in season or even canned whole kernels in a pinch (plain, not creamed). Substitute 1 2/3 cups fresh corn or drained, canned corn for the 10-ounce bag of frozen kernels called for in the recipe.
Cheddar cheese offers a salty, sharp contrast to corn's natural sweetness. For a more mild flavor, you can use Monterey Jack or Fontina cheese, or add some Mediterranean flair and swap in Feta cheese.
Ingredients:
1 tablespoon canola oil, or grapeseed oil
1/4 cup scallions, chopped, white and green parts separated
1 (10-ounce) bag frozen corn
1 1/4 cups cornbread mix
1 teaspoon salt
3 large eggs, lightly beaten
6 tablespoons butter, melted
1/3 cup milk
1 1/4 cups cheddar cheese, shredded