Strawberry Cheesecake Bars (Vegan)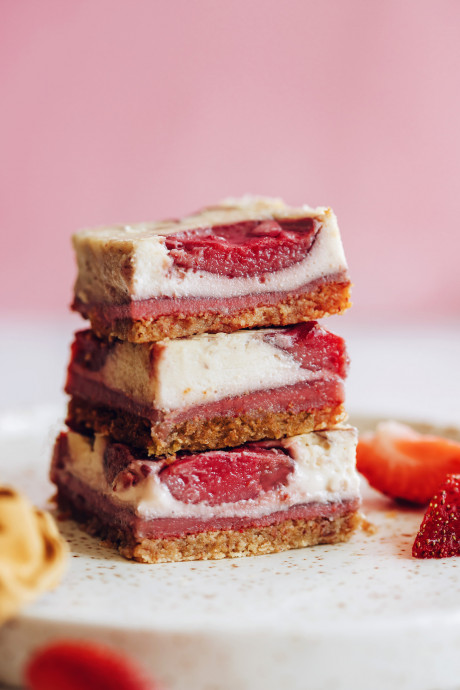 The classic flavors of tangy cheesecake and fresh ripe strawberries marry together perfectly in these 10-ingredient, vegan, gluten-free bars! We were inspired to make a berry cheesecake bar for summer to highlight juicy, ripe berries, and these definitely hit the spot! I went for a baked cheesecake in order to achieve that quintessential cheesecake flavor and texture. Did I mention they're kinda perfect? Let me show you how it's done!
It's the perfect dessert for summer gatherings and celebrations, wedding or baby showers, birthdays, and beyond! It would also be delicious with other fruits, especially other berries.
Ingredients:
CRUST
1 cup rolled oats (gluten-free certified as needed)
1 cup raw almonds
1/4 tsp sea salt
2 Tbsp maple syrup
4-5 Tbsp refined coconut oil, melted
STRAWBERRY PURÉE
4 heaping cups super ripe strawberries, hulled and quartered (1 ½ lbs yields 4 heaping cups)
3 Tbsp maple syrup
1 Tbsp arrowroot or cornstarch
CHEESECAKE FILLING
1 cup raw cashews
1 cup coconut cream
3 Tbsp lemon juice
1 ½ Tbsp arrowroot or cornstarch
1/8 tsp sea salt
1/3 cup maple syrup
1 tsp vanilla (optional)