Pineapple Upside-Down Cupcakes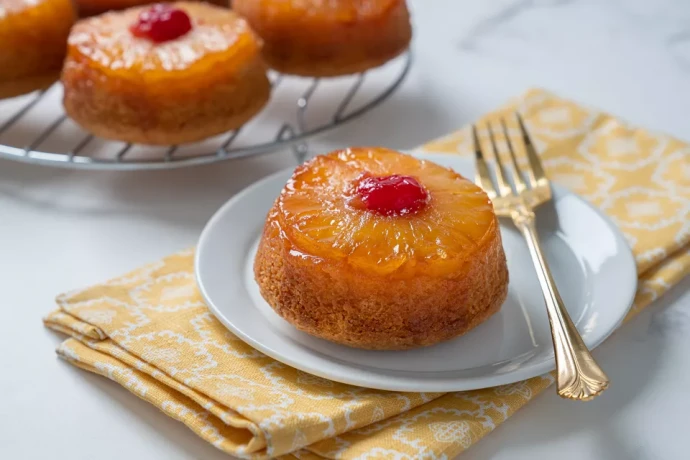 We all know and love the classic pineapple upside-down cake. It's easy to make, but always gets a wow from your guests when presented at dessert time. This recipe takes everything about the iconic dessert and packages it into portable individually sized cupcakes.
The key to this recipe is using a jumbo-sized muffin tin to make the cupcakes. (Besides, who doesn't want a bigger cupcake?) The jumbo muffin tin is just the right size for a single pineapple ring slice to fit in the bottom. Then, when it's flipped over you have a perfectly shaped pineapple upside-down cupcake. In order to make sure the decadent brown sugar syrup doesn't stick to the bottom of the muffin tin, it's important to line the bottom of each well with a piece of waxed paper or parchment paper. That way, when the cupcakes are inverted, they effortlessly slide out of the pan and the paper can be easily pulled away to reveal the maraschino cherry-filled pineapple ring.
Ingredients:
3 (8-ounce) cans pineapple slices in 100% pineapple juice
6 tablespoons unsalted butter, cubed
1 cup firmly packed light brown sugar
12 maraschino cherries, well drained
3 large eggs, room temperature
2 cups sugar
1 cup canola oil
1 cup sour cream
1 teaspoon vanilla extract
1 teaspoon rum extract
2 1/2 cups all-purpose flour
1/2 teaspoon baking powder
1/2 teaspoon baking soda
1/2 teaspoon kosher salt