Doritos Taco Salad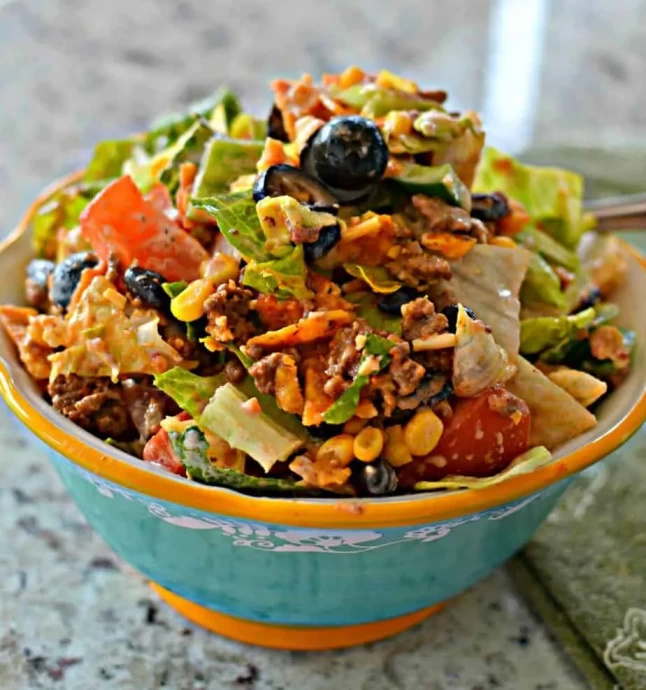 Doritos Taco Salad is a delectable combination of romaine, tomatoes, green peppers, black beans, corn, black olives, seasoned ground beef and crunchy Doritos in a slightly spicy ranch dressing.
This beautiful salad is a family favorite. It comes together quickly and can be changed up so easily! Maybe you would rather sub fresh sliced avocados for the green peppers. Perhaps you don't like black olives and you would rather have red onions. The dressing comes together fast taking full advantage of your favorite bottled ranch. The salad dressing can be mixed up to 2 days in advance.
So if you are having a hankering for a downright awesome salad than this Doritos Taco Salad is right up your alley. It comes together quickly, looks beautiful and tastes oh so good. Your loved ones will be singing your praises and you can feel good about the nutritious food your feeding them.
Ingredients: 1/2 cup ranch dressing, 1/4 cup salsa, 2 tablespoons mayonnaise, 1 tablespoon adobo sauce, 1 lb ground beef, 3 tablespoons taco seasoning, 3/4 cup water, 1 head iceberg, lettuce chopped, 1/2 green pepper chopped, 1/2 cup chopped black olives, 1 large tomato chopped, 1 can (15.25 ounce) corn drained, 1 can (15 ounce) black beans drained and rinsed, 1 cup shredded cheddar jack blend cheese, 2 cups crushed nacho flavored Doritos
Course: Lunch, Dinner
Prep Time: 15 minutes
Cook Time: 15 minutes
Total Time: 30 minutes