Chicken Pesto Pasta with Mushrooms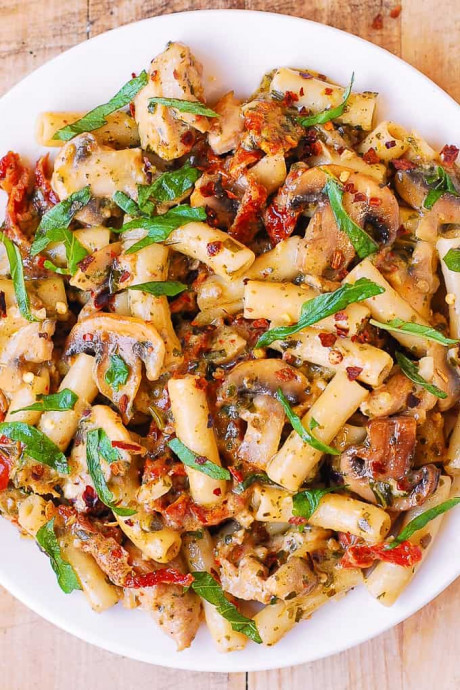 Chicken Pesto Pasta with Mushrooms is pure comfort food and an easy-to-make family friendly dinner! Perfect any time of the year but especially during the Summer, when fresh basil abounds. The delicious creamy pesto sauce is made with milk, basil pesto, red pepper flakes.
I love pesto, and cook a lot with it in the Summer. I've been making this chicken pesto pasta for years, and only now finally posting the recipe on my blog. It combines some of my most favorite flavors: basil pesto, sun-dried tomatoes, mushrooms, fresh basil, red pepper flakes. And, the whole recipe takes only 30 minutes from start to finish. Perfect amount of time since you want to spend most of the time in the Summer outdoors and not cooking, right?
There are lots of great recipes for homemade basil pesto, and below are my favorites from trusted sources:
This beautifully green basil pesto is everything that a pesto should be: pine nuts, parmesan cheese, garlic, olive oil, and lemon juice.
Another classic recipe is this fresh basil pesto.
And this recipe for homemade pesto is amazing!
There is always option #4 – purchase a pre-made basil pesto in the store!
Ingredients:
1 tablespoon olive oil
1/2 lb chicken thighs , boneless, skinless, chopped
1/4 cup sun-dried tomatoes , drained of most oil, chopped
1/4 teaspoon red pepper flakes
4 oz mushrooms , sliced
3 garlic cloves , minced
1/2 cup basil pesto
1 cup milk
1/4 teaspoon salt and more
8 ounces penne pasta (use gluten free for gluten free version)
fresh basil chopped