Veggie Sushi Bowls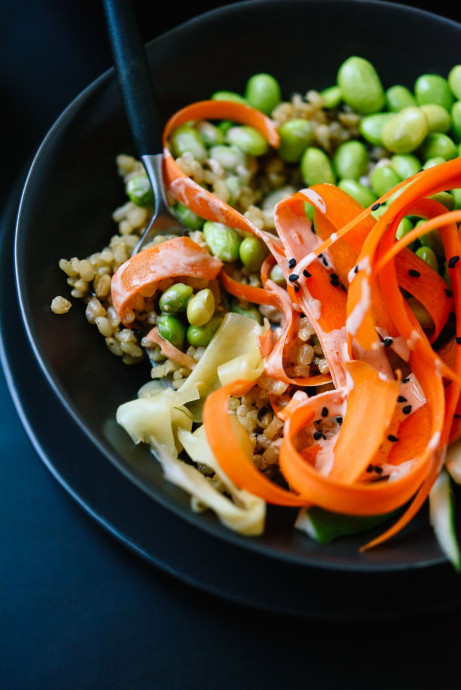 This recipe tastes like veggie sushi rolls, but in simplified bowl form! The spicy mayo sauce really takes it to another level. Feel free to play with the toppings to make this bowl taste like your favorite roll. There are a few steps involved, but each one is super simple. Recipe yields 4 sushi bowls, which keep well for leftovers (for best results, slice the avocado just before serving).
These sushi bowls start off with rice, of course, mixed with toasted, crumbled nori (the green seaweed casing for sushi rolls) and some vinegar, soy sauce and sweetener. I opted for brown rice, which is part of the reason why these bowls fill me up. Then, I topped the rice with edamame for protein, creamy avocado slices, short cucumber matchsticks and carrot ribbons, made with my vegetable peeler.
To buy vegetarian sushi at restaurants (when it's not on happy hour), though, is to spend way too much money on rice and cucumber. I definitely appreciate the skill involved after my own endeavor, but when do I want to spend ten dollars on rice and cucumber? Very rarely.
Homemade sushi bowls are the answer to my sushi conundrum. There's no rolling involved, which means they're much easier to make. You can get more creative with toppings, too, since you aren't limited to options that roll up well. Best of all, these fresh but hearty bowls keep me fueled for hours.
Ingredients:
2 cups brown short-grain rice, rinsed well
1 (8 by 8-inch) sheet dried nori
3 tablespoons rice vinegar
1 ½ teaspoons reduced-sodium tamari or soy sauce
1 tablespoon sugar or agave nectar
½ teaspoon salt
⅓ cup Sir Kensington's mayonnaise
1 to 2 tablespoons sriracha or chili-garlic sauce, to taste
2 cups frozen edamame, preferably organic
2 large carrots, sliced into ribbons with a vegetable peeler
1 avocado, sliced into long strips
1 small cucumber
Recommended garnishes: sesame seeds (preferably black) and pickled ginger