Almond Lemon Blueberry Pie Bars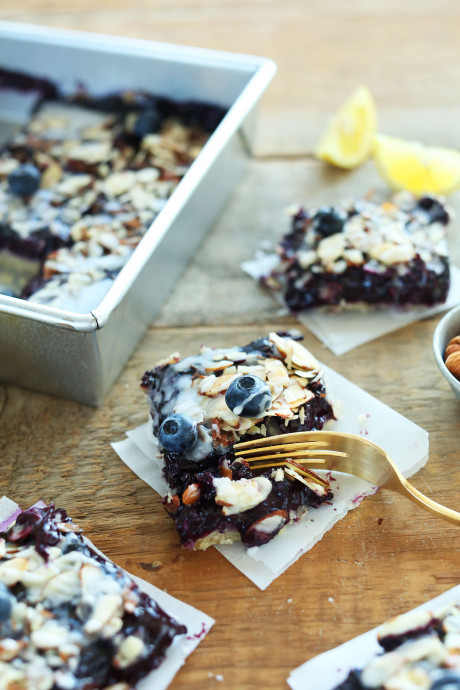 Simple, 10-ingredient Blueberry Pie Bars with a cookie crust, slivered-almond coating, and 2-ingredient glaze! The perfect easy summertime dessert.
Right about now I'm guessing you have a giant crate of blueberries sitting in your fridge, just waiting to be used. I have solutions!
These pie bars are are simple, requiring just 10 ingredients (which are flexible based on preference and dietary needs). And they deliver big tart-sweet flavor. Be stoked.
I think you guys are going to LOVE these bars. They're: Summery, Sweet, Loaded with blueberries. Slightly tart, Crunchy from the almonds, Easy & Seriously delicious. Make these for friends, BBQs, dinner parties, or just to use up all that beautiful summer produce.
Ingredients:
CRUST
1 stick (1/2 cup each) vegan butter (softened*)
1/3 cup coconut sugar or organic cane sugar
1 1/4 cups unbleached all-purpose flour*
1 pinch salt
2 Tbsp Blue Diamond Almondmilk Original Unsweetened
FILLING
4 cups fresh blueberries (or other mixed berries, e.g. strawberries, blackberries, raspberries)
1/4 cup coconut sugar (or organic cane or brown sugar)
1/4 cup all-purpose flour*
1 small lemon (zested + juiced // 1 small lemon yields ~2 Tbsp juice or 30 ml)
1 Tbsp vegan butter, cut into small pieces (optional)
1 Tbsp chia seeds (optional)
1/3 cup raw slivered almonds
GLAZE optional
1 cup organic icing/powdered sugar
1-2 Tbsp Blue Diamond Almondmilk Original Unsweetened