Spinach Feta Salmon Burgers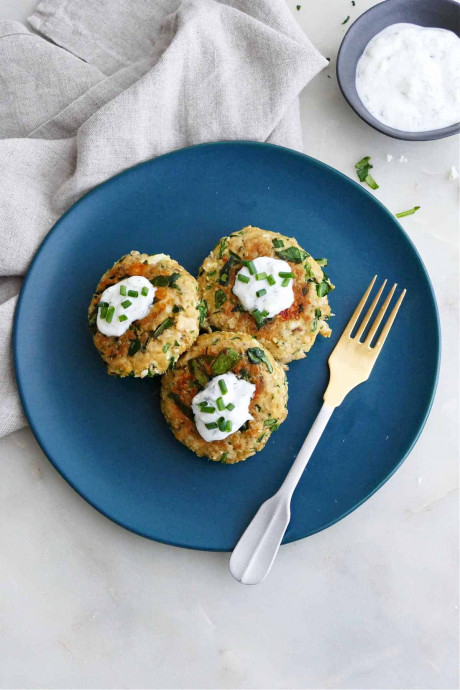 Using canned salmon and a handful of other ingredients, these spinach feta salmon burgers make a great dinner or prep-ahead lunch. They're full of flavor and nutrition!
These spinach feta salmon burgers check all of those boxes. They use mostly pantry ingredients, plus some fresh spinach and a little feta cheese. If you don't have spinach on hand, you can use any other leafy green or herb. It's an easy way to sneak in some veggies and use up what you have.
The other great thing about this recipe is that it uses canned salmon—one of those pantry ingredients I referenced! I love the affordability and convenience of canned salmon. You don't even have to cook it. Plus, it packs so much protein and provides healthy fats.
So, if you're looking for some easy recipes to add to your weekly menu or meal prep routine, salmon patties with feta cheese and spinach won't disappoint! Pick up a couple cans of salmon when you're at the store, and make this recipe now…or later.
Ingredients:
2 6-ounce cans skinless and boneless salmon - drained
1 egg - beaten
1/2 cup ground old fashioned oats - can sub bread crumbs
2 cups finely chopped spinach
1/2 cup crumbled feta cheese
2 tbsp chopped fresh chives - can sub any type of onion
1 tbsp Dijon mustard
1 tbsp lemon juice
1 tsp garlic powder
1/4 tsp salt
1 tbsp olive oil - for cooking
Freshly ground black pepper - to taste
Burger buns and/or toppings as desired