Pasta e Fagioli (Italian Pasta and Beans)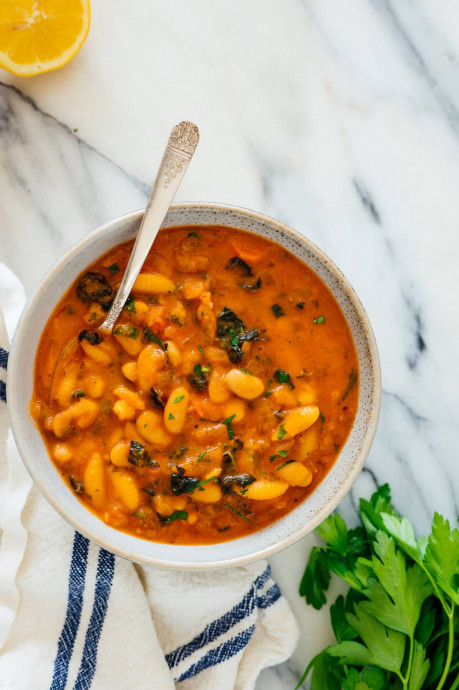 Pasta e fagioli means "pasta and beans" in Italian—this recipe is much more than that! This hearty vegetarian stew is full of irresistible fresh flavor. It's vegan, too, as long as you don't top it with cheese. Recipe yields 6 bowls or 8 cups of soup. The Italians have graced us with countless delicious recipes. I've loved pizza and spaghetti for as long as I can remember, of course, but I've only recently discovered pasta e fagioli.
Pasta e fagioli translates to "pasta and beans." Pasta and beans may not sound terribly enticing (unless you're me), but I assure you that this Italian stew is truly irresistible. Lots of aromatics, crushed tomatoes, fresh parsley and Tuscan kale turn pasta and beans into a hearty meal-in-a-bowl situation. I can't claim that this recipe is 100 percent authentic, but it's the best I can do. If you appreciate homemade minestrone soup, marinara, lasagna or baked ziti, I think you'll love this stew. It'll warm you right up on cold days, and tastes even better the next day.
This pasta e fagioli recipe is perfect to make use of canned beans, so this stew is ready in about an hour! I bet you have most of the ingredients in your kitchen already. It's an excellent candidate for a relaxed weeknight.
Ingredients:
4 tablespoons extra-virgin olive oil, divided
1 medium-to-large yellow onion, finely chopped
2 carrots, scrubbed clean, finely chopped
2 ribs celery, finely chopped
¾ teaspoon fine sea salt, divided
Freshly ground black pepper, to taste
4 cloves garlic, pressed or minced
1 can (15 ounces) crushed tomatoes*
4 cups vegetable broth
3 cups water
2 bay leaves
1 teaspoon dried oregano
¼ teaspoon red pepper flakes, omit if sensitive to spice
2 cans (15 ounces each) cannellini beans, Great Northern beans, or chickpeas, rinsed and drained (or 3 cups cooked beans)
1 cup (about 4 ounces) cavatelli, ditalini, elbow or small shell pasta of choice
2 cups chopped Tuscan kale (tough ribs removed first), or chard or collard greens
¼ cup finely chopped Italian parsley
1 tablespoon fresh lemon juice (about ½ medium lemon)
Optional garnishes: Additional chopped parsley, black pepper, grated Parmesan cheese or light drizzle of olive oil