Keto Cauliflower Lasagna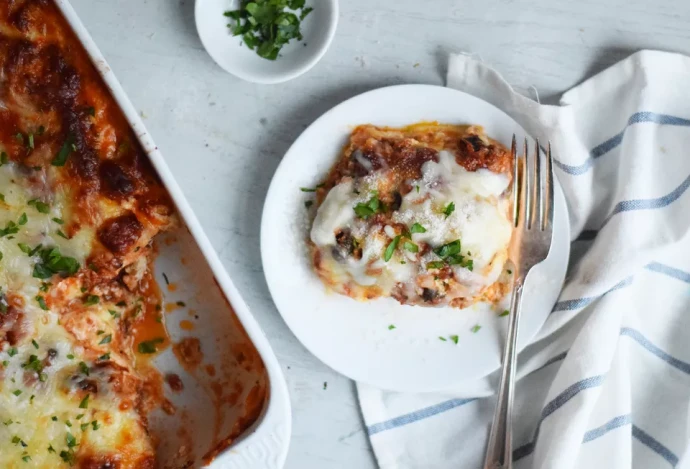 We've finally found it…a keto pasta dish that actually tastes like pasta. This keto lasagna is incredibly delicious and will fool even the most devoted pasta lovers. Instead of using sliced zucchini or eggplant as the noodles, we created lasagna noodles out of cauliflower. It sounds complicated or intense, but it's super easy to execute and doesn't require any special tools or pasta rollers. Plus,. you don't have to boil any noodles!
The cauliflower "noodles" are layered with a hearty meat sauce and of course a generous helping of creamy ricotta cheese. It's very low carb and completely satisfying. You won't be missing any starch in this show-stopping dish.
Ingredients:
For the Cauliflower Noodles:
2 pounds cauliflower
2 large eggs
1/2 cup mozzarella cheese
1/4 cup Parmesan cheese, grated
1 teaspoon garlic powder
1 teaspoon salt
1/2 teaspoon freshly ground black pepper
1 teaspoon Italian seasoning
For the Meat Sauce:
1 pound ground beef
1 pound sweet Italian sausage
1/2 yellow onion, diced
3 clove garlic, minced
1 (28-ounce) can crushed tomatoes
1/2 cup frozen spinach
1 teaspoon Italian seasoning
1 teaspoon salt
For the Ricotta Filling:
2 1/4 cups mozzarella cheese
2 cups ricotta cheese
1 large egg
1/4 cup Parmesan cheese, grated
1 teaspoon Italian seasoning
1 teaspoon salt
1 teaspoon freshly ground black pepper
1/2 cup heavy cream