Loaded BBQ Baked Potatoes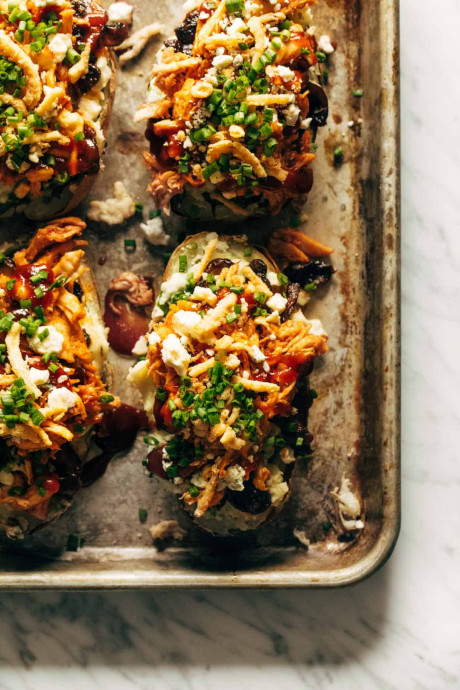 Baked potatoes are just there for us, ya know?
They come out of the oven hot and steamy, with the crisp skins and the super comforting potatoey insides, and they can shine with nothing more than butter and salt.
But why stop at butter? Let's make them REALLY shine, like glitter and neon lights style. These loaded BBQ baked potatoes are filled with a creamy garlic herb spinach and potato mixture and then loaded with BBQ chicken, caramelized little pan roasted mushrooms, bleu cheese crumbles, crispy onions, and chives. Ho-lee-smokes. Crunchy. Saucy. Creamy, tangy, sweet. So filling. The flavors, the textures… if a minimalist baked potato is your dream, you may have to look elsewhere. This one is more of a maximalist situation for those of us who like their baked potatoes to go big, messy, and borderline excessive.
You can eat these deconstructed, which is convenient for the toddler or picky kiddo, or you can eat them piled high, which is convenient for people who like to post pictures of their meals (it me), or you can just pick and choose which elements you want on which nights and somehow you might end up with two or three different meals out of this whole thing – leftover BBQ chicken on a salad, potato skin remnants tossed into a breakfast skillet, things like that.
Ingredients:
2 russet potatoes
8 ounces fresh mushrooms, sliced
1 lb. chicken thighs or chicken breasts
1/4 to 1/2 cup barbecue sauce
a sprinkle of garlic power, onion powder, salt, and pepper
1/2 cup garlic herb spreadable cheese, or garlic herb goat cheese
a handful of fresh spinach
optional toppings: chives, crunchy onions, bleu cheese crumbles