Milk Chocolate Stuffed Jack-o'-Lantern Cookies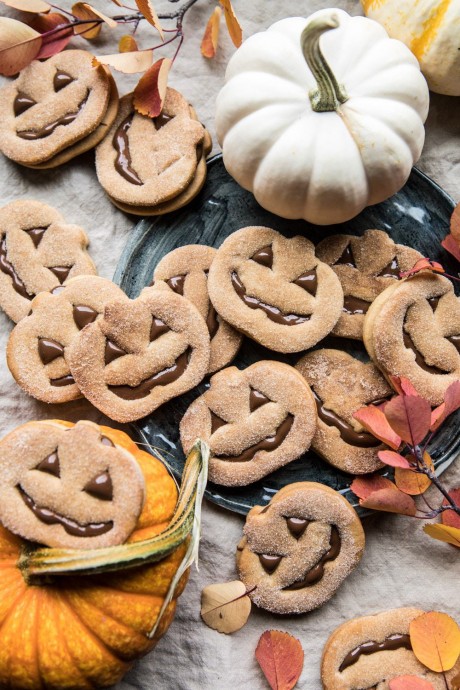 Fridays require something sweet, enter these Milk Chocolate Stuffed Jack-O'-Lantern Cookies. Sweet milk chocolate, sandwiched between spiced brown sugar cookies, and finished with a light dusting of cinnamon sugar. There's nothing not to love about these cookies. Perfect for a spooky Halloween night…or just when you need a deliciously sweet chocolate filled cookie.
Delicious, cute, chocolate filled cookies, that are the quintessential autumn dessert.
The cookie itself is a brown sugar cookie that's been spiced with cinnamon, ginger, and nutmeg. I wanted the cookie to really have that "spiced" flavor and taste sweet and warming with every bite. It is a fall cookie after all! That said, I didn't include any pumpkin in my cookies. I just don't think it's needed every time I make a pumpkin cookie. Pumpkin often causes the cookie to turn out cakey…and I'm not the biggest fan of cakey cookies. So no pumpkin here, just pumpkin shaped!
Ingredients: 3 sticks (1 1/2 cups) salted butter, softened, 1 1/4 cups light brown sugar, packed, 1 tablespoon pure vanilla extract, 2 eggs, at room temperature, 4 1/2 cups all-purpose flour, 1 teaspoon baking soda, 1 teaspoon cinnamon, 1/2 teaspoon ginger, 1/4 teaspoon nutmeg, 1/2 teaspoon salt, 12 ounces milk chocolate, melted, 2 tablespoons salted butter, 3 tablespoons cinnamon sugar
Prep Time: 30 minutes
Cook Time: 15 minutes
Total Time: 45 minutes